Alternatives à Twitter
Enterprise Microblogging. StatusNet. Sharetronix. Meme- Share text, photos, videos and audio. Spread it! Jaikuengine - Project Hosting on Google Code. JaikuEngine is a social microblogging platform that runs on AppEngine.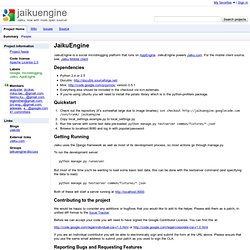 JaikuEngine powers Jaiku.com. For the mobile client source, see: Jaiku Mobile client Dependencies.
---
castorp Jan 4 2010

Si Twitter est la plateforme de micro-blogging la plus utilisée et la plus connue, il n'est pas indispensable d'utiliser Twitter pour pouvoir faire du micro-blogging. Dans cette perle sont regroupées des possibilités alternatives de micro-blogging. C'est intéressant notamment si on veut mettre en place une plateforme de micro-blogging "privée" (dans le cadre d'une organisation donnée par exemple).
---