Allemand
Goethe Institut Paris - page d'acceuil en français
Concours MIX'ART France-Allemagne Vernissage et expositions "MIX'ART France-Allemagne 2013" et "STREET ART BERLIN", dans le cadre de l'anniversaire du Traité de l'Élysée 2013 De l'Allemagne, 1800-1939. De Friedrich à Beckmann Riche de plus de deux cents œuvres, l'exposition « De l'Allemagne, 1800-1939 » est consacrée à la construction de l'identité allemande autour de l'idée de Kultur. Lecture avec Josef Winkler Dans ses romans, l'écrivain autrichien donne à sa région natale de Carinthie une atmosphère très particulière et oppressante. Le lauréat du prix Georg Büchner présente des extraits de ses dernières publications.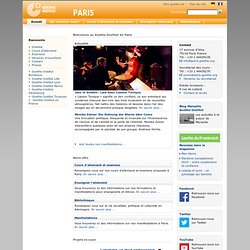 welcome to soziety, the language exchange social network. know more » Soziety helps you to improve a foreign language. Instead of taking a lot of boring lessons we propose that you improve your language skills the natural way: speaking with other people .
SoZiety - apprendre une langue en s'amusant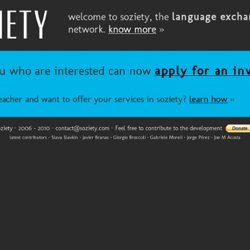 Speak Mania - apprendre une langue grâce à des correspondants
English LOGIN! Not a member yet?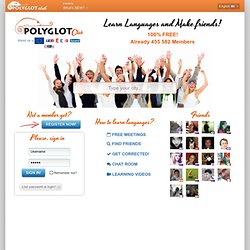 Polyglot - apprendre une langue en se faisant des amis
Friends abroad - réseau social d'échanges linguistiques
Learn Languages Online
The page you are looking for might have been removed, had its name changed, or is temporarily unavailable. Please try the following: Make sure that the Web site address displayed in the address bar of your browser is spelled and formatted correctly. If you reached this page by clicking a link, contact the Web site administrator to alert them that the link is incorrectly formatted.
Sutree - watch and learn - leçons d'allemand audio et video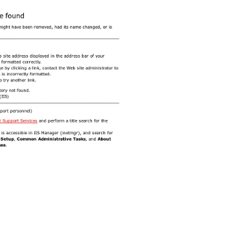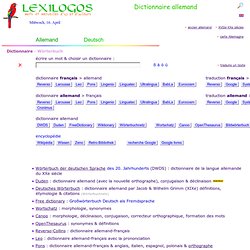 Montag, 1. April Dictionnaire allemand Allemand Deutsch • Wörterbuch der deutschen Sprache des 20.
Suivez les programmes des rédactions africaines de la DW en direct (français, swahili, haoussa, amharique, portugais et anglais).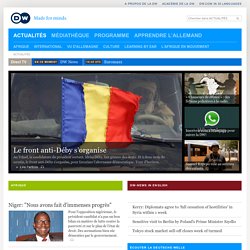 Espace allemand - découverte ludique de l'allemand