Allemand
Goethe Institut Paris - page d'acceuil en français. Shared Talk - apprendre une langue grâce à des correspondants ét. SoZiety - apprendre une langue en s'amusant. Welcome to soziety, the language exchange social network. know more » Soziety helps you to improve a foreign language.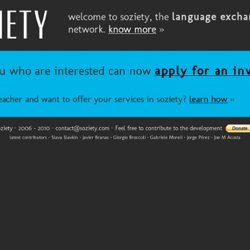 Instead of taking a lot of boring lessons we propose that you improve your language skills the natural way: speaking with other people . Surfmusik.de : radios allemandes via Internet. Speak Mania - apprendre une langue grâce à des correspondants. Polyglot - apprendre une langue en se faisant des amis. Friends abroad - réseau social d'échanges linguistiques. Dictionnaires allemand-français - LEXILOGOS.
Mittwoch, 16.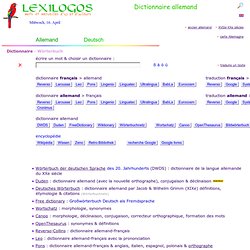 April Dictionnaire allemand Allemand Deutsch •Wörterbuch der deutschen Sprachedes 20. Deutshe Welle - accès Deutsch warum nicht ? Suivez les programmes des rédactions africaines de la DW en direct (français, swahili, haoussa, amharique, portugais et anglais).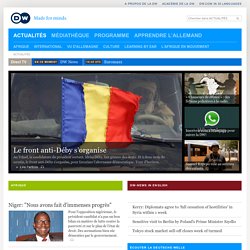 Nos deux émissions quotidiennes de 12h et 17h TU sont toujours disponibles en différé. Faites votre choix et cliquez sur les liens ci-dessous ! N'hésitez pas à nous contacter, par exemple en cas de problème de connexion : envoyez-nous un courriel à francais@dw.de ou laissez un message sur notre répondeur : +49-228-429 164948 ! Espace allemand - découverte ludique de l'allemand.
---