Workshops
KMO: Veranderen doe je zo | ubeon.com. — Normaal 400 euro, dankzij Syntra Vlaanderen nu 50 euro!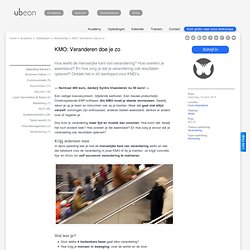 — Een veiliger kassasysteem. How to Moderate a Brainstorming Session. Hosting a Remote Whiteboard Session? Try These - BestVendor. Whiteboard sessions are great for brainstorming and planning, and we love tools like IdeaPaint that make it easy.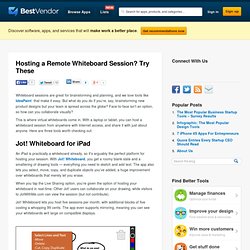 But what do you do if you're, say, brainstorming new product designs but your team is spread across the globe? Face-to-face isn't an option, so how can you collaborate visually? This is where virtual whiteboards come in. With a laptop or tablet, you can host a whiteboard session from anywhere with Internet access, and share it with just about anyone.
Eight Rules To Brilliant Brainstorming. 1.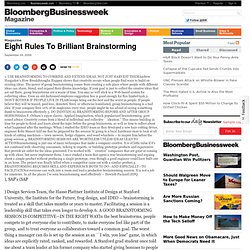 USE BRAINSTORMING TO COMBINE AND EXTEND IDEAS, NOT JUST HARVEST THEMAndrew Hargadon's How Breakthroughs Happen shows that creativity occurs when people find ways to build on existing ideas. The power of group brainstorming comes from creating a safe place where people with different ideas can share, blend, and expand their diverse knowledge. If your goal is just to collect the creative ideas that are out there, group brainstorms are a waste of time. You may as well stick to a Web-based system for collecting ideas. Brainstorming Doesn't Really Work.
In the late nineteen-forties, Alex Osborn, a partner in the advertising agency B.B.D.O., decided to write a book in which he shared his creative secrets.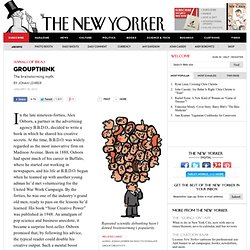 At the time, B.B.D.O. was widely regarded as the most innovative firm on Madison Avenue. Born in 1888, Osborn had spent much of his career in Buffalo, where he started out working in newspapers, and his life at B.B.D.O. began when he teamed up with another young adman he'd met volunteering for the United War Work Campaign. By the forties, he was one of the industry's grand old men, ready to pass on the lessons he'd learned. The Brainstorming Process Is B.S. But Can We Rework It? The business practice of brainstorming has been around with us so long that it seems like unadorned common sense: If you want a rash of new ideas, you get a group of people in a room, have them shout things out, and make sure not to criticize, because that sort of self-censoring is sure to kill the flow of new thoughts.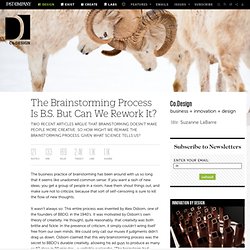 It wasn't always so: This entire process was invented by Alex Osborn, one of the founders of BBDO, in the 1940's. It was motivated by Osborn's own theory of creativity. Business Studies | Case Study | Teacher & Student Resource. Famous Quotes and Quotations at BrainyQuote. Speed Meeting Icebreaker - Meet People Quickly With a Speed Meet. Have you ever heard of speed dating?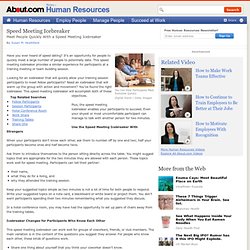 It's an opportunity for people to quickly meet a large number of people to potentially date. This speed meeting icebreaker provides a similar experience for participants at a training meeting or team building session. Looking for an icebreaker that will quickly allow your training session participants to meet fellow participants? Need an icebreaker that will warm up the group with action and movement? You've found the right icebreaker.
---