Thinkers
RSA Animate - The Power of Networks. TEDTalks as of 10.26.09. The Smart List 2012: 50 people who will change the world. Welcome to the first Wired Smart List.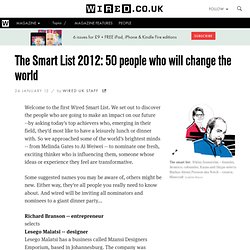 We set out to discover the people who are going to make an impact on our future --by asking today's top achievers who, emerging in their field, they'd most like to have a leisurely lunch or dinner with. So we approached some of the world's brightest minds -- from Melinda Gates to Ai Weiwei -- to nominate one fresh, exciting thinker who is influencing them, someone whose ideas or experience they feel are transformative.
Some suggested names you may be aware of, others might be new. Either way, they're all people you really need to know about.
---