Creating
Ideas. Stories. How to Pitch a TV Show. How to Create a Hit Sitcom. Start drinking early.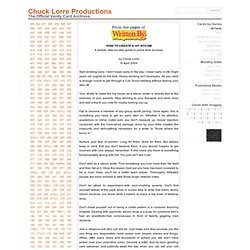 I don't mean early in the day. I mean early in life. Matthew Weiner, Vince Gilligan, and David Milch Interview - GQ June 2012: Movies + TV. In TV, as nowhere else, the writer is king—none more so than those emperors of the air that control every aspect of an ambitious, ongoing cable drama.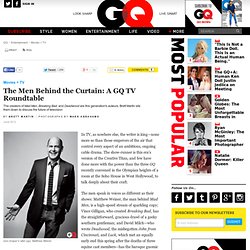 The show-runner is this era's version of the Creative Titan, and few have done more with the power than the three GQ recently convened in the Olympian heights of a room at the Soho House in West Hollywood, to talk deeply about their craft. The men speak in voices as different as their shows: Matthew Weiner, the man behind Mad Men, is a high-speed stream of sparkling copy; Vince Gilligan, who created Breaking Bad, has the straightforward, gracious drawl of a geeky southern gentleman; and David Milch—who wrote Deadwood, the misbegotten John from Cincinnati, and Luck, which met an equally early end this spring after the deaths of three equine cast members—has the baroque gnomic gravity of an archdruid.
But each of these giants expresses, in his distinct way, just how ambitious and deep the new breed of TV drama has grown.
---