3.0 Emerging
Gov 3.0
The Rise of Smart Mobile Services (Not Apps!) Editor's note: Saar Gur is a general partner at Charles River Ventures.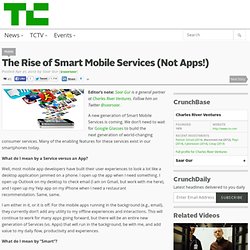 Follow him on Twitter @saarsaar. A new generation of Smart Mobile Services is coming. We don't need to wait for Google Glasses to build the next generation of world-changing consumer services. Many of the enabling features for these services exist in our smartphones today. What do I mean by a Service versus an App?
Mastering social media 3.0. The Quantitive Self. Economic.
---