Cassius
To Do. Brussels. Practical. Alexa the Web Information Company. 10 Search Engines to Explore the Invisible Web. The Invisible Web refers to the part of the WWW that's not indexed by the search engines.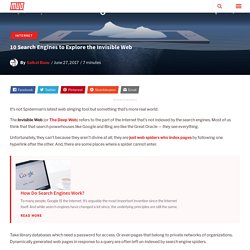 Most of us think that that search powerhouses like Google and Bing are like the Great Oracle"¦they see everything. Unfortunately, they can't because they aren't divine at all; they are just web spiders who index pages by following one hyperlink after the other. Spezify.
News. History. Thinking. Thinkers. Creativity. Creativity Applied. Innovation. Entrepreneurship. Strategy and Performance. Lean Six Sigma. Organisational Change Management. Service Design.
Data Visualization. Entertainment. Cool stuff. Quite Interesting. Travel. Food & Drink.
---
nimonas Feb 6 2012

I'm new her, just found this site today.
But after finding your profile I understood how amazing this site is :) Good like :)

clmccray Sep 26 2011

You ask me what I think of this pearltree pearltrees.com? I think it is awesome. Possibly because it's well developed, possibly because it was created by someone else who shares my name.
---