Devices
14 Of The Year's Best Ideas In Interface Design | Co.Design. Nowadays, our gadgets meld seamlessly into our lives straight out of the box.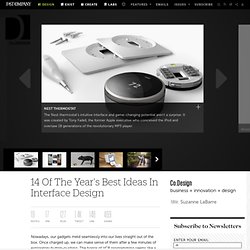 Once charged up, we can make sense of them after a few minutes of exploratory button-pushing. The horror of VCR programming seems like a faint memory, thanks in large part to Steve Jobs and Apple, whose intuitive user interfaces (UIs) have informed everything from thermostats to social media sites. And of course, the iPad has spawned a half a million apps, the more outstanding of which are included in this year's list.
Will The Next Wave Of E-Paper Devices Have Glowing Screens? Depending on who you talk to, the fact that you need a light to read e-paper-based e-readers like the Kindle is either a strength or a weakness.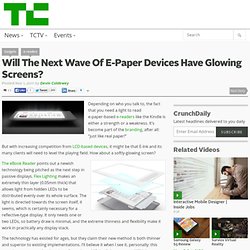 It's become part of the branding, after all: "just like real paper!" But with increasing competition from LCD-based devices, it might be that E-Ink and its many clients will need to level the playing field. How about a softly-glowing screen? The eBook Reader points out a newish technology being pitched as the next step in passive displays. Flex Lighting makes an extremely thin layer (0.05mm thick) that allows light from hidden LEDs to be distributed evenly over its whole surface. Another Kickstarter Record? Scott Wilson's LunaTik Pen Works On Both Paper And Tablets | Co.Design. Last November, Scott Wilson turned to Kickstarter to gin up enough cash to produce his TikTok and LunaTik wristbands, which turn the iPod Nano into a sleek, wearable watch.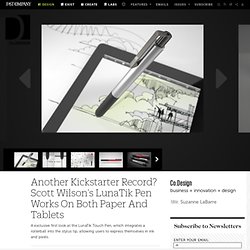 Co.Design broke the story, and the rest, as they say, is history: The designer raised about $1 million, exceeding his own expectations and breaking Kickstarter records for speed and amount of funding. Suddenly, retailers came calling, even Apple, which had passed on Wilson's original proposal. Wilson's astounding success has left many wondering what he'd come up with next.
Behold the RollTop, The Computer You Unfurl (video. Evgeny Orkin designed this new concept computer: a laptop that rolls up to be carried. 2010 may go down in history as the year of the tablet, but that hasn't stopped anyone from dreaming about the next form the portable computer may take.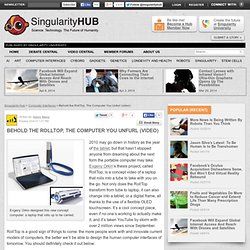 Evgeny Orkin's thesis project, called RollTop, is a concept video of a laptop that rolls into a tube to take with you on the go. Not only does the RollTop transform from tube to laptop, it can also change into a tablet, or a digital frame, all thanks to the use of a flexible OLED touchscreen. It's a cool concept piece, even if no one's working to actually make it, and it's taken YouTube by storm with over 2 million views since September.
---