Math
Graphs and charts are great because they communicate information visually. For this reason, graphs are often used in newspapers, magazines and businesses around the world. NCES constantly uses graphs and charts in our publications and on the web. Sometimes, complicated information is difficult to understand and needs an illustration. Graphs or charts can help impress people by getting your point across quickly and visually. Here you will find five different graphs and charts for you to consider.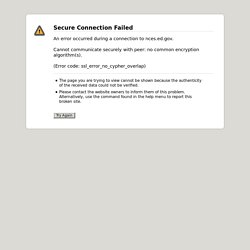 Need help with algebra?You've found the right place! Lessons: How do you really do this stuff? -- Purplemath's algebra lessons are written with the student in mind.
Educators
NSDL Science Literacy Maps help teachers connect concepts, standards, and NSDL educational resources by providing a way to see and discover how scientific concepts relate to one another. View the NSDL Science Literacy Maps NSDL provides access to audio, video, and other multimedia resources for science and math education through Apple's iTunes Store. There is no cost to use or download materials from NSDL on iTunes U.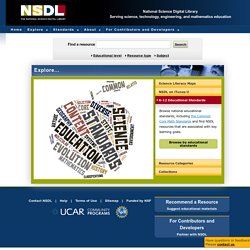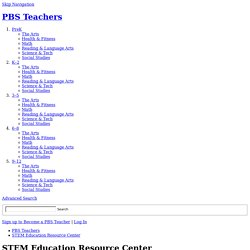 Welcome to PBS Teachers STEM Education Resource Center! Science, Technology, Engineering and Math (STEM) Resources for Grades PreK-12 PBS offers all Americans the opportunity to explore new ideas and new worlds related to science, technology, engineering, and mathematics (STEM) learning through television and online content. On-line broadband access and digital media are dramatically changing the opportunities available to the nation's educators improving STEM education. Our recent national educator survey (Grunwald, 2009) indicates that more teachers than ever before are turning to digital media resources to help their students understand concepts, practice new skills and engage in exciting, authentic learning experiences. Explore some of our great STEM offerings for grades PreK-12.
National Engineers Week Future City Competition™
The Discovery Education 3M Young Scientist Challenge is the premier National Science Competition for students in the 5th-8th grade.
Math4Mobile - The mLearning Way
Kids' Science Challenge: Fun Educational National Competition!
Siemens We Can Change The World Challenge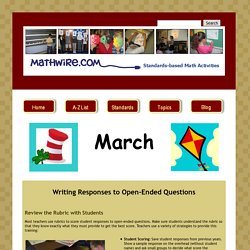 Review the Rubric with Students Most teachers use rubrics to score student responses to open-ended questions. Make sure students understand the rubric so that they know exactly what they must provide to get the best score. Teachers use a variety of strategies to provide this training: Use the Writing Process Approach
10 Ideas for Innovative Math Instruction
Innovative educators know that math doesn't have to be boring or abstract. There are several innovative ideas for spicing up your math class. My favorite idea for educating innovatively in math is mathcasting which is fabulous, free, and easy. The first three articles below touch on the concept. The fourth article introduces two really interesting math resources that innovative math educators may find of interest.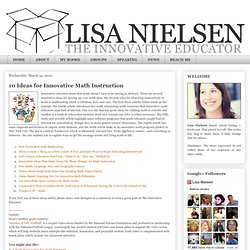 Free Stuff for Everyone
Fraction Bars Interactive Games
MIT BLOSSOMS | MIT BLOSSOMS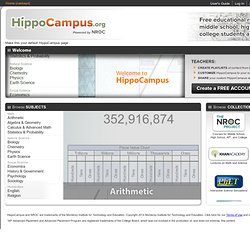 Can I take a course at HippoCampus for credit? How do I enroll in a course at HippoCampus? Are there any fees to take your courses? How do I make a comment or ask a question? How do I get individual help with my homework assignment?
Homework and Study Help - Free help with your algebra, biology, environmental science, American government, US history, physics and religion homework