Ufo1
Object shot out of sky above Israeli nuclear plant, military says. By the CNN Wire Staff December 16, 2010 3:16 p.m.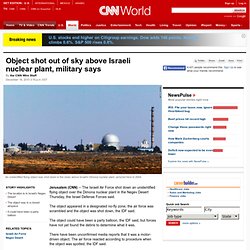 EST An unidentified flying object was shot down in the skies above Israel's Dimona nuclear plant, pictured here in 2004. The location is in Israel's Negev DesertThe object was in a closed airspaceIt could have been a party balloon. BBC - Rendlesham Revealed: New evidence in UFO mystery. It's hoped one of the greatest Suffolk mysteries of all time is about to be solved once and for all, with new evidence to be revealed on BBC Radio Suffolk.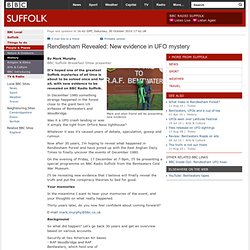 In December 1980 something strange happened in the forest close to the giant twin US airbases of Bentwaters and Woodbridge. Was it a UFO crash landing or was it simply the light from Orford Ness lighthouse? Ufo Poland Sett.2010 Anal. Spettrometrica - Spectrometric Analysis.
---