Entertainment
Browse Builds - GW2 Builds
MechWarrior Online | Game
What is a BattleMech? A BattleMech is a heavily armored combat platform which utilizes an internal structure similar to a skeleton, along with actuators (joints), and myomers (muscles). When combined, the BattleMech takes the form of a giant, rough, bipedal humanoid. BattleMechs typically weigh between 20 and 100 tons and fall into one of four weight classes: light, medium, heavy and assault.
Black Prophecy: Beta client (U.S. only)
AoC Goblin (AoC Bot, Age of Conan Bot, AoC Harvesting Bot)
AoC Goblin (Navigates, Fights, Harvest, etc.) Usable in MacroGoblin v2.5.0.4 + The MacroGoblin file (.mg) is attached to the forum post. Bot Status: Currently Working, Maintained and Updated.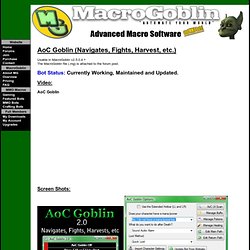 Instinctiv