Tefl blogs
Jeremy Harmer's Blog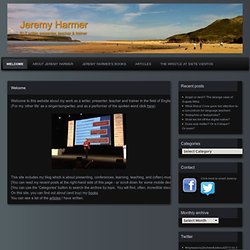 Welcome Welcome to this website about my work as a writer, presenter, teacher and trainer in the field of English Language Teaching (ELT). (For my 'other life' as a singer/songwriter, and as a performer of the spoken word click here) This site includes my blog which is about presenting, conferences, learning, teaching, and (often) music – and anything else related, however tenuously, to the world of training and teaching. [You can read my recent posts at the right-hand side of this page - or scroll down for some mobile devices]
EFL CLASSROOM 2.0
Web 2.0 is different: Speed - Broadband connectivity and high speed wireless and mobile connectionshave enabled much of the changes that have occurred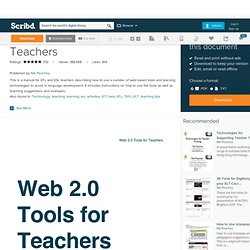 http://stevenherder.org/
Russell Stannard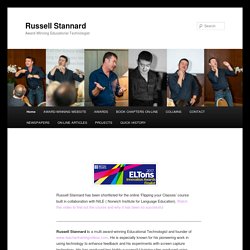 Part one of a 3 part blog on the work I have done to use podcasting and audio to get my students speaking. One of the areas where I have done most work in the use of ICT in language teaching is around the use of audio and podcasting. I have done a range of experiments getting my students to record themselves speaking. From telling stories to doing daily 3 minute recordings, I have worked on a whole range of different activities and tasks. The early work I did focused more on the feasibility of the experiments and the student's reaction, whereas the later work has actually looked at measuring the impact on fluency.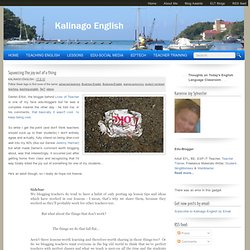 Squeezing the joy out of a thing | Kalinago English
So while I get the point (and don't think teachers should suck up to their students) I don't entirely agree and actually, fully intend on being über-cool well into my 60's (like our Sensei Jeremy Harmer) but what made Darren's comment worth blogging about, was that interestingly, it occurred just after getting home from class and recognizing that I'd way totally killed the joy out of something for one of my students... He's an adult though, so I really do hope not forever. Sidebar We blogging teachers do tend to have a habit of only posting up lesson tips and ideas which have worked in our lessons - I mean, that's why we share them, because they worked so they'll probably work for other teachers too.
THE FCE BLOG by Claudia Ceraso
I got a letter from Simon, a reader of this blog, who says: " My biggest problem is my small vocabulary. [...] Do you have any tips for me to improve my English faster?" So I thought it was about time we revisited the topic of vocabulary learning.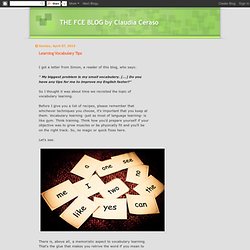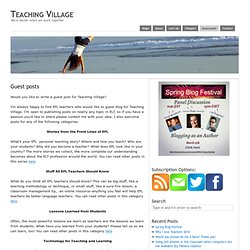 Would you like to write a guest post for Teaching Village? I'm always happy to find EFL teachers who would like to guest blog for Teaching Village. I'm open to publishing posts on nearly any topic in ELT, so if you have a passion you'd like to share please contact me with your idea.
List of TEFL blogs (Teaching Village)
critical mass elt blog
Whatever other speech you grow into….your dialect stays alive in a sort of inner freedom, a separate little self Ted Hughes, Poet, cited in Corcoran 1993:114 *this blog post is based on an article submitted to TESOL Spain Newsletter in 2006.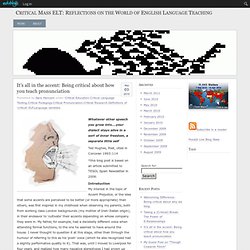 Sponsors Comments Mike Guest on The Uni-Files : Hi once again Danny. First, I ... More
ELT news Interviews
Janet's Abruzzo Edublog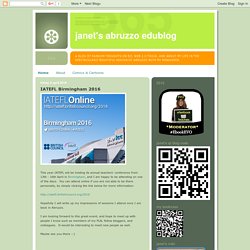 2013 will go down in my personal history as a year of being preoccupied with an event from the past. At times this year, I could think of nothing else, and it threatened to overshadow any of the joys that 2013 actually managed to bring. I am happy to say that the situation that has dominated since February 2009, is thankfully over for me and my family. I thank the legal team for all their tireless support and faith in us. I thank the judge, who listened attentively, and then agreed to everything. I thank Karl for being my rock, I thank my sisters for always being there with me throughout the long process we have endured, and I thank everyone who has supported us along the way.
Parking Lot Archaeology: An engaging angle on teaching academic English (by Ron Campbell) "Every car tells a story; all you have to do is listen" It's become something of a cliché, but every teaching situation presents its own unique set of challenges. However, my challenge wasn't all that unique – in fact, it was pretty well-worn itself. My students were falling asleep as I tried to guide them through science readings and lectures in preparation for the TOEFL.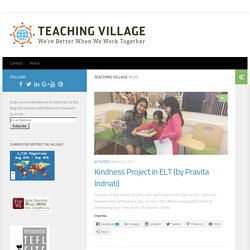 Teacher Training Videos now on YOUTUBE You can now find many of the most popular teacher training videos on YOUTUBE. TeacherTrainingVideos is now on youTube Teacher Training Videos wins third award for online training courses
The dramatic saga of the Co-op continues to unfold as the Co-op Bank reports a £1.3 billion loss and apologises to customers - but says it can raise funds to help fill a hole in its finances. David Pollard reports. TRANSCRIPTREPORTER: It's salt into the wounds of a once proud British institution.
s Learning Technology Blog
Some months ago I had a plan to write a book of tasks to get teachers using technology. As with so many of my plans and ideas, time and circumstances over took me and I never got further than the first 15 tasks. When I went back to do some more I noticed that I was taking so long doing these that some had gone out of date, so to try to get some use from the tasks I've decided to revise them and start publishing them here so anyone can download them and use them either to do teacher training or to develop their own ability to use technology. So here are the first five. If they are popular I'll publish the next 5 for new year, so they can be my new years resolution and yours. Task 1: Create your learning journalSo here goes.
Lexiophiles - Love Your Words
Job Applications – Chris's 10 Tips
How to apply for the jobs you really want to get. A practical guide to filling out those (automated) application forms. In 2005 Cambridge University advertised for an executive for Thailand. Of 300 replies, over 100 had CVs longer than 10 pages. HR people form their opinions within 5 seconds of their first glance…