Tefl blogs
Jeremy Harmer's Blog
EFL CLASSROOM 2.0
http://stevenherder.org/
Please look at the sidebar on the right to see the sites I have made (3,400+ lessons). After that… … a bit about the guy whose head this stuff comes from: Father of the most wonderful two children in the world, husband to the best wife in the world, British, Master's (distinction) in TEFL/TESL, Apple iMac lover, Arsenal Football Club supporter, gardener, visitor to 45 countries, early riser, long-distance swimmer, kayaker and cyclist. Also… Newbie blogger, keen tryer-outerer of Web 2.0 in the EFL classroom, keen on using Twitter as a PLN (Personal Learning Network), trying to keep up with my students' knowledge & awareness of social media, trying to keep up with my kids, trying to keep up with my diet and exercise schedule, trying to keep up with cool, new stuff on the web… The story of how I got here is here: Part I , Part II and Part III .
About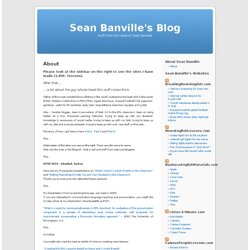 Russell Stannard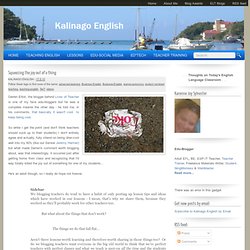 Squeezing the joy out of a thing | Kalinago English
So while I get the point (and don't think teachers should suck up to their students) I don't entirely agree and actually, fully intend on being über-cool well into my 60's (like our Sensei Jeremy Harmer ) but what made Darren's comment worth blogging about, was that interestingly, it occurred just after getting home from class and recognizing that I'd way totally killed the joy out of something for one of my students... He's an adult though, so I really do hope not forever. Sidebar
THE FCE BLOG by Claudia Ceraso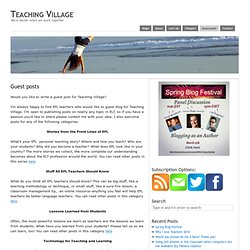 Would you like to write a guest post for Teaching Village? I'm always happy to find EFL teachers who would like to guest blog for Teaching Village. I'm open to publishing posts on nearly any topic in ELT, so if you have a passion you'd like to share please contact me with your idea.
List of TEFL blogs (Teaching Village)
critical mass elt blog
Whatever other speech you grow into….your dialect stays alive in a sort of inner freedom, a separate little self Ted Hughes, Poet, cited in Corcoran 1993:114 *this blog post is based on an article submitted to TESOL Spain Newsletter in 2006.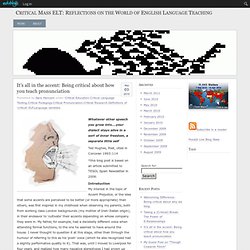 Sponsors Comments Mike Guest on The Uni-Files : Hi once again Danny. First, I ... More
ELT news Interviews
Janet's Abruzzo Edublog
This cartoon by Christopher Weyant from The Hill relates to the current debate in the USA over same-sex marriage. BACKGROUND Thousands of demonstrators descended Tuesday on the U.S. Supreme Court as the justices heard arguments on the first of two cases addressing the constitutionality of same-sex marriage. The court on Tuesday heard arguments on California's law banning gay marriage, known as Proposition 8 . On Wednesday, the court will hear arguments on the 1996 federal Defense of Marriage Act , which limits the definition of marriage to opposite-sex couples.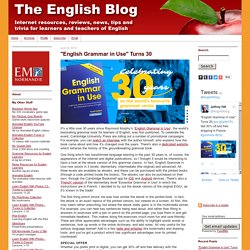 s Learning Technology Blog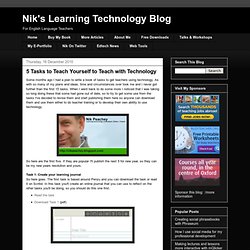 Some months ago I had a plan to write a book of tasks to get teachers using technology. As with so many of my plans and ideas, time and circumstances over took me and I never got further than the first 15 tasks. When I went back to do some more I noticed that I was taking so long doing these that some had gone out of date, so to try to get some use from the tasks I've decided to revise them and start publishing them here so anyone can download them and use them either to do teacher training or to develop their own ability to use technology. So here are the first five. If they are popular I'll publish the next 5 for new year, so they can be my new years resolution and yours. Task 1: Create your learning journal So here goes.
Lexiophiles - Love Your Words
Job Applications – Chris's 10 Tips
How to apply for the jobs you really want to get. A practical guide to filling out those (automated) application forms. In 2005 Cambridge University advertised for an executive for Thailand. Of 300 replies, over 100 had CVs longer than 10 pages. HR people form their opinions within 5 seconds of their first glance…