Tefl blogs
Jeremy Harmer's Blog. EFL CLASSROOM 2.0. Web 2.0 Tools for Teachers. Russell Stannard. Squeezing the joy out of a thing | Kalinago English. So while I get the point (and don't think teachers should suck up to their students) I don't entirely agree and actually, fully intend on being über-cool well into my 60's (like our Sensei Jeremy Harmer) but what made Darren's comment worth blogging about, was that interestingly, it occurred just after getting home from class and recognizing that I'd way totally killed the joy out of something for one of my students...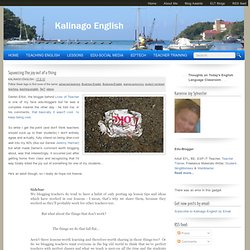 He's an adult though, so I really do hope not forever. Sidebar We blogging teachers do tend to have a habit of only posting up lesson tips and ideas which have worked in our lessons - I mean, that's why we share them, because they worked so they'll probably work for other teachers too. THE FCE BLOG by Claudia Ceraso. List of TEFL blogs (Teaching Village) Would you like to write a guest post for Teaching Village?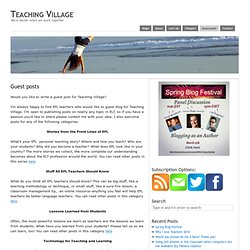 I'm always happy to find EFL teachers who would like to guest blog for Teaching Village. I'm open to publishing posts on nearly any topic in ELT, so if you have a passion you'd like to share please contact me with your idea. Critical mass elt blog. Whatever other speech you grow into….your dialect stays alive in a sort of inner freedom, a separate little self Ted Hughes, Poet, cited in Corcoran 1993:114 *this blog post is based on an article submitted to TESOL Spain Newsletter in 2006.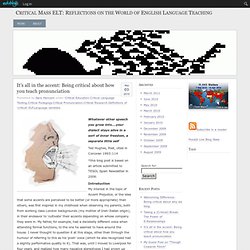 ELT news Interviews. Sponsors Comments Mike Guest on The Uni-Files : Hi once again Danny.
First, I ... More. How Language Works (Edition 3.0): Table of Contents. Janet's Abruzzo Edublog. Teaching Village. Training Vids Russell Stannard. The English Blog. The dramatic saga of the Co-op continues to unfold as the Co-op Bank reports a £1.3 billion loss and apologises to customers - but says it can raise funds to help fill a hole in its finances.
David Pollard reports. TRANSCRIPTREPORTER: It's salt into the wounds of a once proud British institution. Teacher Training Videos created by Russell Stannard. S Learning Technology Blog. Some months ago I had a plan to write a book of tasks to get teachers using technology.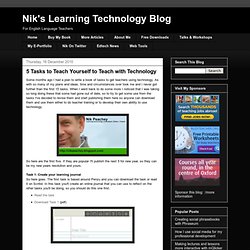 As with so many of my plans and ideas, time and circumstances over took me and I never got further than the first 15 tasks. When I went back to do some more I noticed that I was taking so long doing these that some had gone out of date, so to try to get some use from the tasks I've decided to revise them and start publishing them here so anyone can download them and use them either to do teacher training or to develop their own ability to use technology. So here are the first five. If they are popular I'll publish the next 5 for new year, so they can be my new years resolution and yours. Task 1: Create your learning journalSo here goes.
Lexiophiles - Love Your Words. Job Applications – Chris's 10 Tips. How to apply for the jobs you really want to get.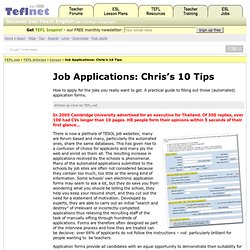 A practical guide to filling out those (automated) application forms. In 2005 Cambridge University advertised for an executive for Thailand. Of 300 replies, over 100 had CVs longer than 10 pages. HR people form their opinions within 5 seconds of their first glance…
---