Camping
Go Glamping | Luxury camping holidays and vacations around the w
Camping & Caravanning Site Directory - Welcome Whether you're an experienced camper or a first timer, when it comes to finding the perfect location www.camping.uk-directory.com is here to help. We have information on campsites and caravanning parks all over the country, so simply click on the county you want to visit and you'll find all the information you need about sites in the area, including descriptions, photo's and a list of facilities. We also have links to the campsite's own websites where you can check for the most important thing of all, availability!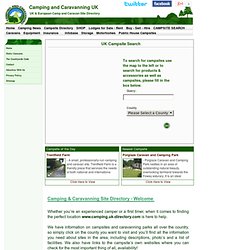 Camping and Caravanning UK Campsites - Directory and Camping Equ
Camping in Italy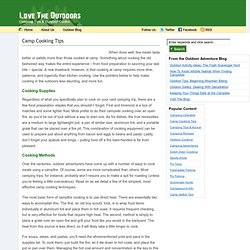 When done well, few meals taste better or satisfy more than those cooked at camp. Something about cooking the old fashioned way makes the entire experience – from food preparation to savoring your last bite – special. A real drawback, however, is that cooking at camp requires more time, patience, and ingenuity than kitchen cooking.
Camping Guide - Camp Cooking Tips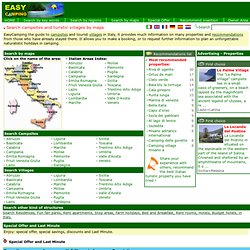 Campsites Guide - Villages Guide - EasyCamping
Search Residences, Fun fair parks, Rent apartments, Stop areas, Farm holidays, Bed and Breakfast, Rent rooms, Hotels, Budget hotels, in Italy. Special Offer and Last Minute
Camping Villaggio La Scogliera
Campeggi Italia - Camping Italy - Villaggi Italia
Le tue vancanze in Italia, in campeggio, agriturismo, residence
The Happy Campers
What is cool camping? To us, camping is all about finding those extra-special places to camp. Our team has spent years searching the UK for the very best campsites in England, Scotland and Wales (and throughout Europe too). Between this website and our guidebook series, you can discover our most-loved campsites.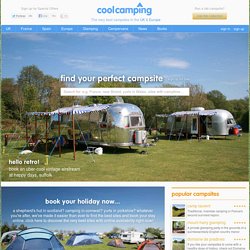 Cool Camping - Home