Camping
Go Glamping | Luxury camping holidays and vacations around the w. Camping and Caravanning UK Campsites - Directory and Camping Equ. Camping in Italy. Camping Guide - Camp Cooking Tips. When done well, few meals taste better or satisfy more than those cooked at camp.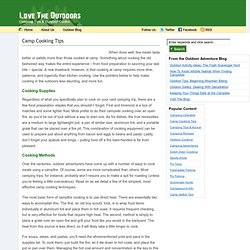 Something about cooking the old fashioned way makes the entire experience – from food preparation to savoring your last bite – special. A real drawback, however, is that cooking at camp requires more time, patience, and ingenuity than kitchen cooking. Campsites Guide - Villages Guide - EasyCamping. Camping Villaggio La Scogliera.
Campeggi Italia - Camping Italy - Villaggi Italia. Le tue vancanze in Italia, in campeggio, agriturismo, residence. The Happy Campers. Cool Camping - Home.
---