Arte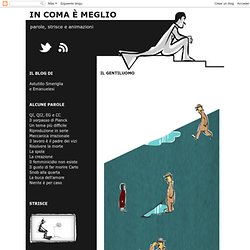 parole, strisce e animazioni IL BLOG DI Astutillo Smeriglia e Emanuelesi ALCUNI POST Il sorpasso di Planck Un tema più difficile Riproduzione in serie Meccanica irrazionale Il lavoro è il padre dei vizi La spola La creazione Il femminicidio non esiste Il gusto di far morire Carlo Snob alla quarta Risolvere la morte INFO Ogni tanto scrivo anche qui Alcuni miei geni scrivono qui Header di Emanuelesi FAQ Email Pubblicato da Emanuelesi | 21.3.13 Pubblicato da Emanuelesi | 28.2.13
Strisce emanuelesiane
ALEXA MEADE
Dalton Ghetti
Fosco Maraini
Da Wikipedia, l'enciclopedia libera. Foto di famiglia Fosco Maraini ( Firenze , 15 novembre 1912 – 8 giugno 2004 ) è stato un etnologo , orientalista , alpinista , fotografo , scrittore e poeta italiano . Vita [ modifica ] I componenti della spedizione al Gasherbrum IV del 1958.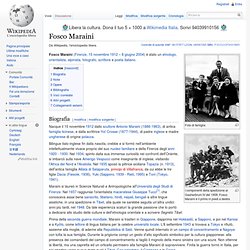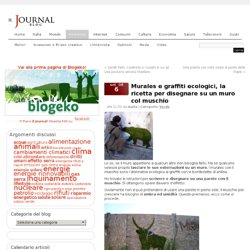 Lo so, se il muro appartiene a qualcun altro non bisogna farlo. Ma se qualcuno volesse proprio lasciare le sue esternazioni su un muro , i murales con il muschio sono l'alternativa ecologica ai graffiti con le bombolette di anilina. Ho trovato le istruzioni per scrivere e disegnare su una parete con il muschio . Si ottengono opere davvero d'effetto. Ovviamente non si può pretendere di usare una parete in pieno sole.
Murales e graffiti ecologici, la ricetta per disegnare su un muro col muschio | Blogeko.it
While Darwin Sleeps by Paul Bush (2004)
Vintage X-Ray 'Vinyl' from Russia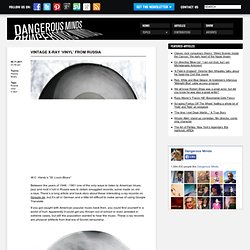 W.C. Hardy's "St. Louis Blues" Between the years of 1946 - 1961 one of the only ways to listen to American blues, jazz and rock'n'roll in Russia was to obtain smuggled records, some made on old x-rays. There's a long article and back story about these interesting x-ray records on Spiegle.de , but it's all in German and a little bit difficult to make sense of using Google Translate. If you got caught with American popular music back then, you could find yourself in a world of hurt.
Matematica e Arte: Forme del pensiero artistico
Ping Pong (aka. Table Tennis)
www.upigitos.it/category/tag/pi/
fotografia Effetto Kirlian