Visual Effects
Research Group. Pixar Research Group Home Page The primary mission of the Pixar Research Group is to develop new technology for use in our films.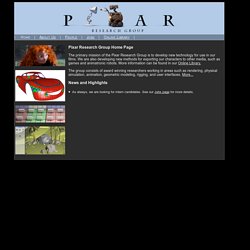 We are also developing new methods for exporting our characters to other media, such as games and animatronic robots. More information can be found in our Online Library. The group consists of award winning researchers working in areas such as rendering, physical simulation, animation, geometric modeling, rigging, and user interfaces. Walt Disney Animation Studios. Cinefex :: Visual Effects Magazine :: Special Effects :: Computer Graphics. The Art of VFX - VFX Interviews. Films with live action and animation. This is a list of films that combine live-action and animated elements, typically interacting.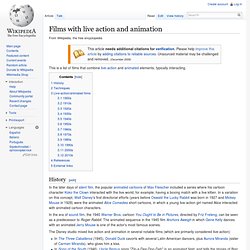 History[edit] In the later days of silent film, the popular animated cartoons of Max Fleischer included a series where his cartoon character Koko the Clown interacted with the live world; for example, having a boxing match with a live kitten. In a variation on this concept, Walt Disney's first directorial efforts (years before Oswald the Lucky Rabbit was born in 1927 and Mickey Mouse in 1928) were the animated Alice Comedies short cartoons, in which a young live-action girl named Alice interacted with animated cartoon characters.
The Disney studio mixed live action and animation in several notable films (which are primarily considered live-action): Traditional to Digital | Article. Hello, Once Again.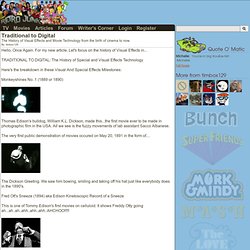 For my new article, Let's focus on the history of Visual Effects in... TRADITIONAL TO DIGITAL: The History of Special and Visual Effects Technology. LOS ANGELES: 2019 | Back from the Off-World Colonies. Spectacular Attractions | film in all its forms. Barbara flueckiger.
---