Visual Effects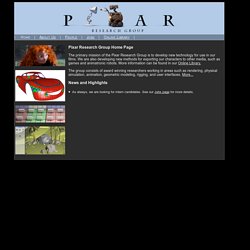 Research Group
Pixar Research Group Home Page The primary mission of the Pixar Research Group is to develop new technology for use in our films. We are also developing new methods for exporting our characters to other media, such as games and animatronic robots. More information can be found in our Online Library. The group consists of award winning researchers working in areas such as rendering, physical simulation, animation, geometric modeling, rigging, and user interfaces.
Cinefex :: Visual Effects Magazine :: Special Effects :: Computer Graphics
A live-action/animated film is a motion picture that features a combination of real actors or elements: live-action and animated elements, typically interacting. [ edit ] History The tradition goes back all the way to the earliest days of animation with Winsor McCay 's short Gertie the Dinosaur , which shows a live-action narrator (specifically, a "live" actor, instead of a filmed one) interacting with an animated landscape and character (Gertie). In one scene, the narrator appears to throw a real orange which is caught by Gertie (the real orange is replaced by an animated one just as it leaves the narrator's hand), and the film climaxes with a scene in which the narrator enters the animated landscape (again, replaced by an animated version) and takes a ride on the famous dinosaur's back.
Films with live action and animation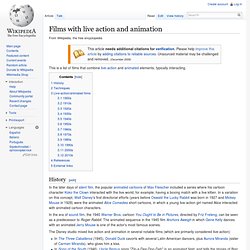 Hello, Once Again. For my new article, Let's focus on the history of Visual Effects in... TRADITIONAL TO DIGITAL: The History of Special and Visual Effects Technology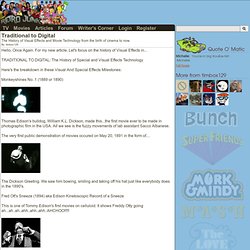 Traditional to Digital | Article
LOS ANGELES: 2019 | Back from the Off-World Colonies
Spectacular Attractions | film in all its forms
barbara flueckiger