Projectmanagement
Baseline | Project Management Knowledge
No man (or woman) is an island – and this statement can't be any truer if you're a designer or developer. Though paid/subscription services like Basecamp and Zimbra are great, individuals strapped for cash have a ton of alternatives that provide similar (if not better) features. In this article, you'll find 15 free tools to help you facilitate remote/web-based collaboration. Whether you need basic whiteboarding/brainstorming tools or fully-featured project management applications – you should be able to find a tool or two that's worth checking out.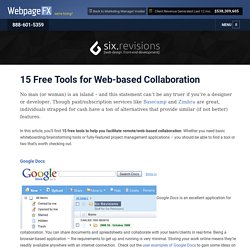 Tasks go Here, Milestones go There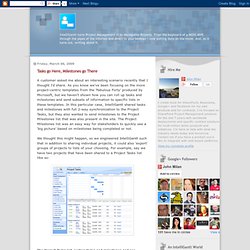 A customer asked me about an interesting scenario recently that I thought I'd share. As you know we've been focusing on the more project-centric templates from the 'Fabulous Forty' produced by Microsoft, but we haven't shown how you can roll up tasks and milestones and send subsets of information to specific lists in these templates. In this particular case, IntelliGantt shared tasks and milestones with full 2-way synchronization to the Project Tasks, but they also wanted to send milestones to the Project Milestones list that was also present in the site. The Project Milestones list was an easy way for stakeholders to quickly see a 'big picture' based on milestones being completed or not. We thought this might happen, so we engineered IntelliGantt such that in addition to sharing individual projects, it could also 'export' groups of projects to lists of your choosing. For example, say we have two projects that have been shared to a Project Tasks list like so:
Your feedback is extremely important to us. To ask a question about this product, please click on the "Post a New Message" link below. To suggest a new feature or vote on current feature suggestions, please click here. To submit a bug report, or request product support, please log in to My Bamboo and click on My Tickets.
Bamboo SharePoint Task Master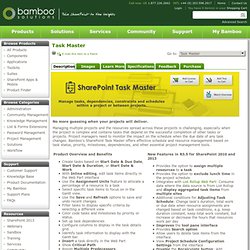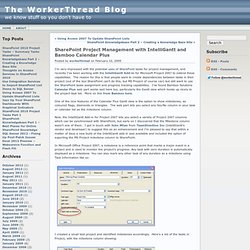 I'm very impressed with the potential uses of SharePoint tasks for project management, and recently I've been working with the IntelliGantt Add-in for Microsoft Project 2007 to extend these capabilities. The reason for this is that people want to create dependencies between tasks in their project (out of the box SharePoint can't do this, but MS Project of course can) but still want to use the SharePoint tasks assignment and progress tracking capabilities. I've found Bamboo Solutions Calendar Plus web part works well here too, particularly the Gantt view which hooks up nicely to the project task list. More on this from Bamboo here. One of the nice features of the Calendar Plus Gantt view is the option to show milestones, as coloured flags, diamonds or triangles. The web part lets you select any Yes/No column in your task or calendar list as the milestone column.
SharePoint Project Management with IntelliGantt and Bamboo Calen
Demo :: dotproject - Open Source Software :: Open Source Project
dotProject is a volunteer supported Project Management application. There is no "company" behind this project, it is managed, maintained, developed and supported by a volunteer group and by the users themselves. For more about the product, what it does, etc please follow the links to the doc site at the top of site. The software is free to anyone who would like to download it.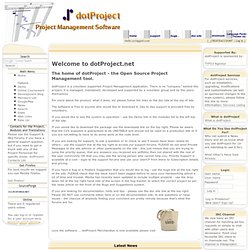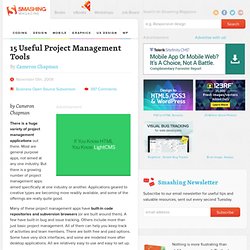 Advertisement by Cameron Chapman There is a huge variety of project management applications out there. Most are general purpose apps, not aimed at any one industry. But there is a growing number of project management apps aimed specifically at one industry or another.
Open Workbench - What is OWB?
5 Essential Tools for Project Management ( sharepoint + project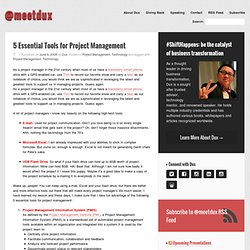 i