Webdesign
Auch mit reinem CSS ist es möglich eine Infobox oder Tooltip zu erstellen. Mit ein wenig Probieren bekommt man die tollsten Effekte! Die Beispiele können und sollen nach eigenen Bedürfnissen angepasst werden, z.B. den Rahmen oder die Hintergrundfarbe ändern. Es gibt sicherlich viele verschiedene Möglichkeiten einen Tooltip anzuzeigen. Zwei potentielle möchte ich kurz vorstellen: den relativen und absoluten Tooltip. relativ - heiß hier, dass die Anzeige des Tooltips abhängig von der Position des Textes ist, d.h.
CSS-Tooltip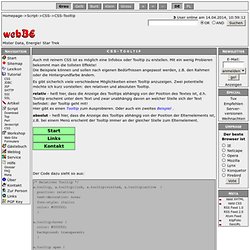 Allgemeines zur Positionierung und Anzeige von Elementen Ab der CSS-Version 2.0 gibt es verschiedene Eigenschaften, um Elemente einer WWW-Seite exakt im Anzeigefenster des WWW-Browsers zu positionieren und die Position von Elementen untereinander genau zu kontrollieren. Dazu gehören Angaben zum absoluten und relativen Positionieren von Elementen, Angaben zur Ausdehnung von Elementen, Angaben zum Umfließen von Elementen und Angaben zum Überlappen und Anzeigen von Elementen. Absolutes und relatives Positionieren von Elementen bietet Ihnen die Möglichkeit, das Erscheinungsbild von Web-Seiten stärker medienorientiert zu gestalten.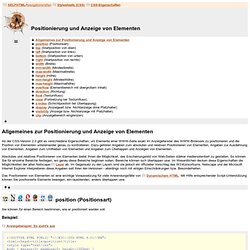 Stylesheets / CSS-Eigenschaften / Positionierung und Anzeige von Elementen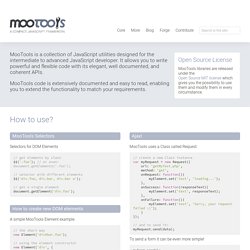 MooTools is a compact, modular, Object-Oriented JavaScript framework designed for the intermediate to advanced JavaScript developer. It allows you to write powerful, flexible, and cross-browser code with its elegant, well documented, and coherent API. MooTools code respects strict standards and doesn't throw any warnings.
Ext JS 4 lets developers deliver on an incredible variety of browsers and on more operating systems using the same code — over ten years of browsers in one release. On modern browsers, Ext JS 4 utilizes HTML5 features and falls back to alternatives on older browsers. Whether you're using Ext JS' built-in UI components, using the Charting package, or theming your application, Ext JS 4 makes it easy to build an app that gives you the power of the web regardless of what browser your customer uses.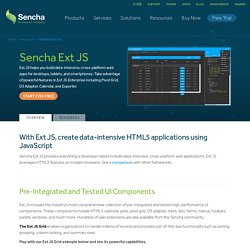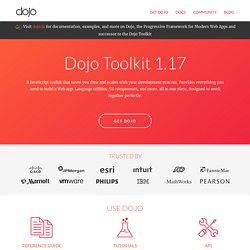 Instantly Better Web Apps Dojo saves you time and scales with your development process, using web standards as its platform. It's the toolkit experienced developers turn to for building high quality desktop and mobile web applications. From simple websites to large packaged enterprise applications whether desktop or mobile, Dojo will meet your needs. Internet Explorer 6-9 Firefox 3.6+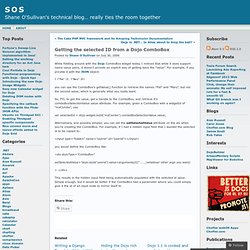 Getting the selected ID from a Dojo ComboBox « SOS
Posted by Shane O'Sullivan on July 30, 2006 While fiddling around with the Dojo ComboBox widget today, I noticed that while it does support name-value pairs, it doesn't provide an explicit way of getting back the "value". For example, if you provide it with the JSON object: you can use the ComboBox's getValue() function to retrieve the names "Pat" and "Mary", but not the second value, which is generally what you really want. So, FYI, to get the value, get a handle to the ComboBox, and retrieve it's comboBoxSelectionValue.value attribute. For example, given a ComboBox with a widgetId of "myCombo", use
Series: Dojo Quick Start Guide « | SitePen Blog
Note: The Dojo Quick Start Guide posts – while still relevant – are a bit dated. Please visit http://dojotoolkit.org/documentation/ for expert tutorials and API documentation to help you get up and running with Dojo. Ajax is an acronym for "Asynchronous JavaScript and XML", a technology employed to send and receive data on the fly. It can be used to update sections of a website from any number of remote sources, send data to the server and pass responses back and forth, all without ever refreshing the web page.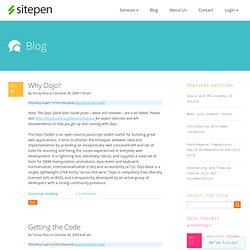 About two years ago when I became a full time freelance web designer, I made it a point to operate with little overhead. Even though I was confident I could make it as a freelancer, there was some fear that things might not go as planned. Because of this, I didn't go out and spend lots of money on equipment and expensive software. My focus was on being frugal and saving money where I could.