Webdesign
Auch mit reinem CSS ist es möglich eine Infobox oder Tooltip zu erstellen. Mit ein wenig Probieren bekommt man die tollsten Effekte!
CSS-Tooltip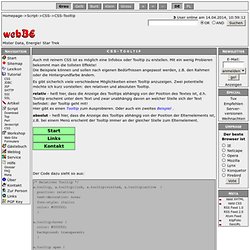 Allgemeines zur Positionierung und Anzeige von Elementen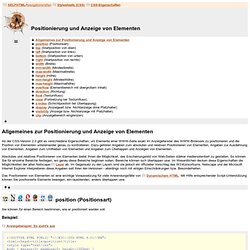 Stylesheets / CSS-Eigenschaften / Positionierung und Anzeige von Elementen
Ext JS 4 lets developers deliver on an incredible variety of browsers and on more operating systems using the same code — over ten years of browsers in one release. On modern browsers, Ext JS 4 utilizes HTML5 features and falls back to alternatives on older browsers. Whether you're using Ext JS' built-in UI components, using the Charting package, or theming your application, Ext JS 4 makes it easy to build an app that gives you the power of the web regardless of what browser your customer uses.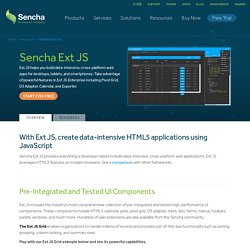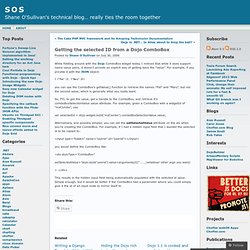 Getting the selected ID from a Dojo ComboBox « SOS
Posted by Shane O'Sullivan on July 30, 2006 While fiddling around with the Dojo ComboBox widget today, I noticed that while it does support name-value pairs, it doesn't provide an explicit way of getting back the "value".
Series: Dojo Quick Start Guide « | SitePen Blog
Note: The Dojo Quick Start Guide posts – while still relevant – are a bit dated.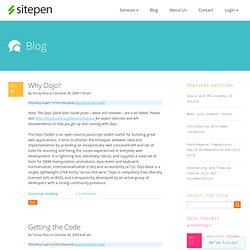 About two years ago when I became a full time freelance web designer, I made it a point to operate with little overhead.