Sexuality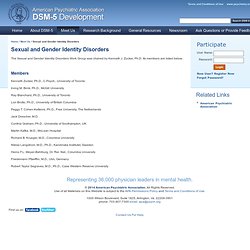 Sexual and Gender Identity Disorders | APA DSM-5
The Sexual and Gender Identity Disorders Work Group was chaired by Kenneth J. Zucker, Ph.D. Its members are listed below. Members Kenneth Zucker, Ph.D., C.Psych., University of Toronto Irving M.
"Depathologize!": A follow-up. If I had to pick the top theme that sexologists and sexuality interest groups were discussing in the lead up to the proposed DSM changes, that would be it: Depathologize, depathologize, depathologize. From blogs to letters to editors of research journals, there have been demands that the DSM declare as officially normal various sexual phenomena, ranging from purely consensual situations (like transsexualism and BDSM) to those that motivate sexual offenses (such as pedophilia and hebephilia). With the release of the DSM5 proposals from their various workgroups, I thought it was worth revisiting.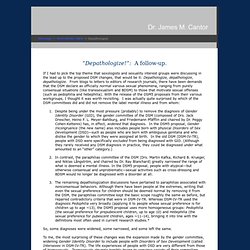 Short article: Depathologize! by James Cantor
Asexual Explorations exists to promote the academic study of asexuality. It is written to be useful to a wide variety of people interested in the subject. For everyone from students writing papers for class to academics writing papers for professional journals, from people writing educational materials on sexuality to people simply wanting to better understand asexuality, Asexual Explorations exists to help people find the information they are looking for.
Asexual Explorations | Promoting the Academic Study of Asexualit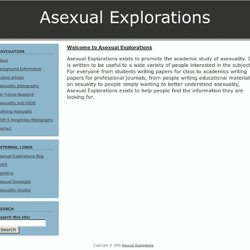 NERVOUS AND MENTAL DISEASE MONOGRAPH SERIES NO. 7[edit] SECOND EDITIONSECOND REPRINTING[edit] BY[edit]
Three Contributions to the Theory of Sex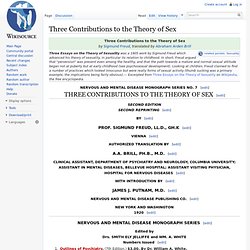 Peggy Kleinplatz - School of Psychology
freaksexual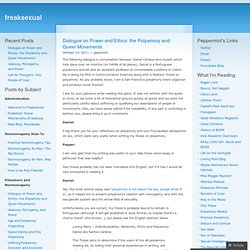 A little over a year ago, my partner Jen and I started a polyamory social group specifically for people under age forty. There are very few age-specific poly events out there, and people tend to react somewhat defensively to groups with an age limit that excludes them, so I have ended up explaining my reasons for starting this group on various email lists. This post is an attempt to gather all those arguments in one place and explore them in depth. First, a quick note on terminology. When I say "younger", I mean people in their twenties and early thirties. When I talk about "older" folks in contrast, I am referring to folks over forty.
Gender Spectrum | Creating a more gender sensitive and inclusive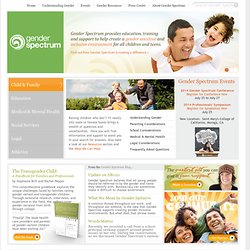 Recently, we received a call from a school principal seeking support around gender issues at her site. During the conversation, as we discussed Gender Spectrum's various professional development services, this leader used the following terms to describe the students at her school who were perceived to be atypical in their gender: transgender, gender-variant, gender-nonconforming, gender fluid, and gender benders. By her own admission, she did not know how to talk about these students. "What should I be calling them?" she asked.
Good Parents, Troubled Teens Miles O'Brien, producer of "Mind of a Rampage Killer," describes what it's like to meet the parents of troubled teens. How Do We Perceive Risk? Why mass murders and other tragedies that kill scores of people make us most fearful. Food Science: Expert Q&A Michael Brenner, who teaches a class on the science of cooking, talks about egg whites, ethylene, protein, and more. Neuroprediction and Crime How much can brain imaging and genetic studies help in the fight against criminal behavior? Boosting Kids' Brain Power Could a brain-stimulating technique that uses an electrical current enhance math abilities in children?
NOVA Online | Sex: Unknown | How Is Sex Determined?