To make
Transaction - Vintage Levi's Denim High Waisted Shorts / Crochet/Lace Pockets / Studded. <div id="javascript-nag" class="notice"><p> Take full advantage of our site features by enabling JavaScript.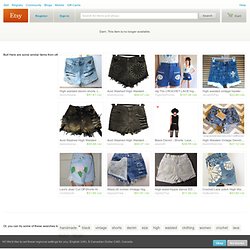 <a href=" more</a>. </p></div> Help. Staring at Stars Crochet Lace-Up Sweater Tank. 1246 rue Sainte-Catherine O.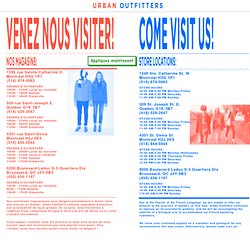 Montréal H3G 1P1 (514) 874-0063 HEURES D'OUVERTURE: 10h00 - 21h00 Lundi au vendredi 10h00 - 19h00 Samedi 11h00 - 18h00 Dimanche 509 rue Saint-Joseph E. BUTTON POINT FLARE SKIRT. Vintage Levi's Denim High Waisted Shorts / by UnraveledClothing. These are a great pair of dip dyed/ombre Vintage Levi's.
Color gradiates from teal to pink. Pyramid studs at front. Fraying at the hem. -------- SIZING --------Waist: 14" // Rise: 10.5" // Inseam: 3" Vintage Levis Denim High Waist Cut off Shorts by UnraveledClothing. -Vintage high waisted cut off shorts- Original natural blue denim wash-Hand painted (bleached out) tribal pattern at back pockets.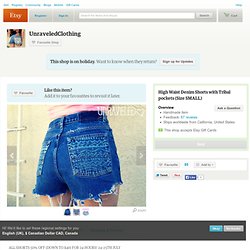 Pretty subtle pattern, it bleached out to a lighter blue. -Lots of slashing, fraying and deconstruction-Zip fly. Dress / tunic '80s back to Flowers' - clothes - from Dorfmadl. Angaben zu Bezahlung und Versand a) innerhalb der Bundesrepublik Deutschland Für jede Lieferung berechnen wir Portokosten in Höhe von EUR 6,90€ (versicherter Versand, bis 10 kg); EUR 11,00€ (versicherter Versand, ab 10 kg).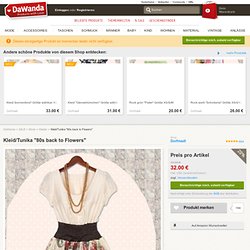 Bei Zahlung per Nachnahme berechnen wir Portokosten von EUR 6,90€,- bzw. Petite | ASOS PETITE Exclusive Cross Back Full Skirted Sun Dress at ASOS. MICHAEL Michael Kors | Striped stretch-jersey dress  MICHAEL Michael Kors is our go-to label for cool downtown pieces, like this midnight-blue and white stretch-jersey dress.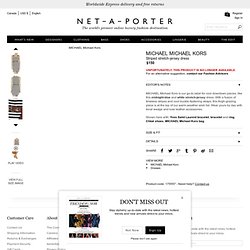 With a fusion of timeless stripes and cool buckle-fastening straps, this thigh-grazing piece is at the top of our warm-weather wish list. Wear yours by day with tonal wedge and luxe leather accessories. Shown here with: Yves Saint Laurent bracelet, bracelet and ring, Chloé shoes, MICHAEL Michael Kors bag. Spool No. 72 MacIntosh Dress. SO Floral Bubble Tank Dress. How To Make An Easy Dress (For Cheap!) Two facts about me: I'm cheap.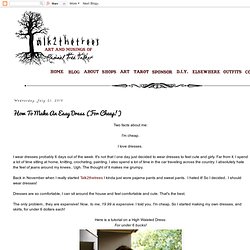 I love dresses. I wear dresses probably 6 days out of the week. It's not that I one day just decided to wear dresses to feel cute and girly. Far from it. The Convertible "Infinity" Dress: How it almost defeated me, and what you need to make one. I made this thing.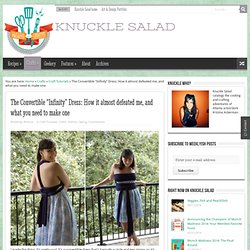 It's pretty cool. It's a convertible dress that's basically a circle and two straps, so it's really easy, inexpensive, and crazy versatile. It's been around forever and everyone seems to love it (in fact, part of the reason I'm posting this is to answer some questions for people I've run into), and I can hardly believe how close I came to not making it at all. Recovered Bohemian Infinity Dress… « Needles, Thread and Love. I saw this dress as a project in vol. 4 of the Quick Stuff To Sew magazine.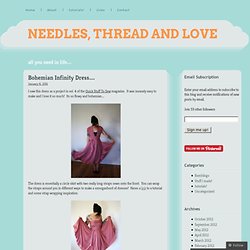 It was insanely easy to make and I love it so much! Its so flowy and bohemian… The dress is essentially a circle skirt with two really long straps sewn onto the front. You can wrap the straps around you in different ways to make a smorgasbord of dresses! Heres a link to a tutorial and some strap wrapping inspiration.
---