Crafts
PLEGAR. Free Embroidery Books & Patterns. Antique Pattern Library. Conditions of Use By downloading the files, you are agreeing to the following conditions: The files are scans of books which are now in the public domain.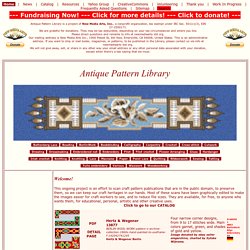 Although the originals have no copyright, the scans are the works of the owners or scanners of the books and, as such, are copyrighted. The owners of the books give permission for you to download and use these file for educational and personal use. You are free to copy and distribute the scans, as electronic or hard copies, free of charge and to make derivative works under the following conditions: You must attribute the borrowed elements to the original title and author of the publication For any reuse or distribution, you must make clear to others the license terms of these works Any of these conditions can be waived if you get written permission from the copyright holder (the current owner of the original book) You do not have permission to sell these copies in any format.
Free 84 Bags & Purses Sewing Patterns. Crochet Patterns Knitting Patterns Sewing Patterns Cross Stitch Patterns Quilt Patterns Yarn Stores Search for: in: "Bags and purses" - 84 Free Sewing Patterns « Back to pattern categories Next page » | View All.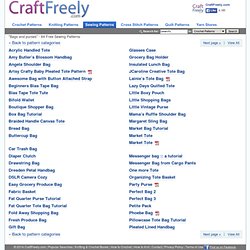 Free Dress Patterns. Sewing Patterns for Travel Bags: When You're on the Go. Are you headed over the river and through the woods this holiday season?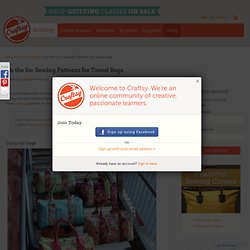 Whether you're hitting the open road or flying the friendly skies, make sure you're ready to travel in style with these sewing patterns for travel bags. Learn how to sew a reversible tote and zipper pouch, perfect for travel, in the FREE Craftsy class Bag-Making Basics! Carry-on bags Photo via StudioCherie The Travel Duffel pattern is just the right size for a weekend trip, as a carry-on bag for the plane, or a roomy tote for the car (to keep all of your road-trip essentials close at hand). DIY Clothes. Lilla Le Vine. My methods are varied but to try and make generic.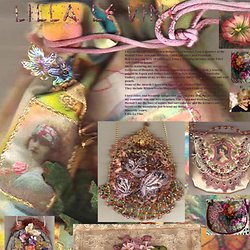 I start with an idea and color. Those two always. Clothing design. Quilt of Belonging - Gallery. For Crazy Quilters by Crazy Quilters. DIY Clothes. Cloth Doll Making by Runo Dollmaker. Coats Crafts UK home. The Crafters File Box: The "Planket": A Tutorial From the File Box. Kate Dicey home page. Your Free One-stop Site for Costume Information & Images. Copyright-free, Downloadable, Beginner, Novice, Intermediate, Expert. Directory Of Free Sewing Patterns. CAFTAN. Featured: Oscar de la Renta Caftan Oscar de la Renta shows us how to relax with this 2009 caftan style.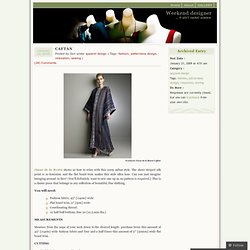 The sheer striped silk print is so feminine and the flat braid trim makes this style ultra luxe. Can you just imagine lounging around in this? (You'll definitely want to sew one up as no pattern is required.) This is a classic piece that belongs in any collection of beautiful, fine clothing. Little Red Infinity Dress Tutorial. *Tutorial made by Melissa @ Sew Like My Mom for her win during the Red Week challenge.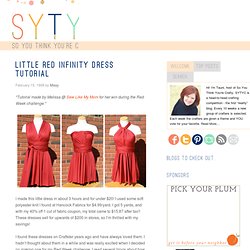 . * DIY BAG LOVER. Free Hat Patterns : Posted on | October 9, 2008 | 8 Comments The links on this page are for sewn hats only.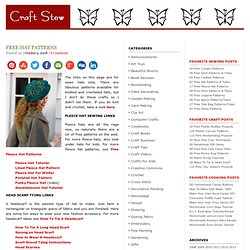 There are fabulous patterns available for knitted and crocheted hats, but I don't do those crafts so I didn't list them. If you do knit and crochet, take a look here. Machine Serial Numbers | Singer Sewing. SINGER® sewing machines were first manufactured in 1851.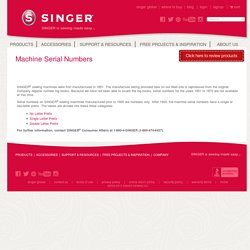 The manufacture dating provided here on our Web site is reproduced from the original Company register number log books. Because we have not been able to locate the log books, serial numbers for the years 1851 to 1870 are not available at this time. Serial numbers on SINGER® sewing machines manufactured prior to 1900 are numbers only. After 1900, the machine serial numbers have a single or two-letter prefix. Lily Abello's Sewing Resource Guide. Inkjet Papers and Fabrics, Window Stickers and Other Arts and Craft Materials. Craft. Paper Craft. Fabric Crafts. Country Bumpkin & Inspirations - beautiful embroidery & smocking. CQMagOnline.com for Crazy Quilters by Crazy Quilters.
Double chain stitch. This stitch follows the same technique as a simple chain stitch.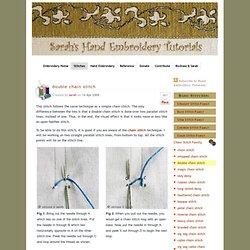 The only difference between the two is that a double chain stitch is done over two parallel stitch lines, instead of one. Thus, in the end, the visual effect is that it looks more or less like an open feather stitch. To be able to do this stitch, it is good if you are aware of the chain stitch technique. I will be working on two straight parallel stitch lines, from bottom to top. Free Christmas Designs. Please accept these Free Designs as my way of saying "thank you" to my loyal customers.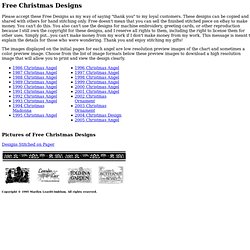 These designs can be copied and shared with others for hand stitching only. Free doesn't mean that you can sell the finished stitched piece on eBay to make money. You can't do this. You also can't use the designs for machine embroidery, greeting cards, or other reproduction because I still own the copyright for these designs, and I reserve all rights to them, including the right to license them for other uses. Raisedwork.jpg 600×430 pixels. Ink Circles - 2006 Goodies. I know the page is titled 2006 Knots. No, Silly, there aren't patterns for 2,006 Celtic Knots here! Just 12. These are the complimentary charts that I posted during the year 2006 and they have been moved to this "archive" page. I've seen some great biscornus, pendibles and ornaments made with these... send me your project photos. I'd love to add to the gallery.
Author Jan Brett's Free Activities Pages. The Colette Patterns Pants Fitting Cheatsheet. Fitting pants is a bit tricky, let's face it. There are a lot of differences among women in the areas between waist and ankles. You've got hips and waists of different sizes, butts of various shapes, legs of all different lengths, thighs that bulge in different ways, calves that may or may not be muscular. And then there are the differences in posture!
With all these factors, no wonder pants fitting seems so mystifying. And no wonder it's so hard for most of us to find a good pair of RTW pants that fit. Quilt of Belonging - Block by Block. Block by Block The Quilt of Belonging consists of 263 11-inch fabric squares, 70 representing all Aboriginal groups, 193 featuring all immigrant nationalities in Canada and the Canadian block. View a Subset of Blocks Use the following tool to view selected blocks organized by region. Search for a Keyword Use the following tool to search the block descriptions for a particular word or phrase. Help us make the world a better place. Free Quilt Patterns From Carol Doak. Lilla Le Vine. Free Quilt Patterns. Antique Pattern Library Antique Pattern Library.
---