Organizations
The Governing Council of the American Counseling Association established a Task Force on Impaired Counselors in the Spring of 2003. The creation of this task force reflects a growing awareness of impairment in the field as well as ACA's commitment to identifying and developing intervention strategies and resources to help impaired counselors. Task Force Goals There are three broad avenues for addressing the needs of impaired counselors: education of all counselors to prevent impairment, securing quality resources, intervention and treatment for impaired counselors, and advocacy within ACA and at the state and national levels to address the broader issues surrounding impairment as well as the specific needs of those who are impaired. Our work begins with impairment prevention through education on resiliency and wellness-and geared towards all counselors.
Counselor Wellness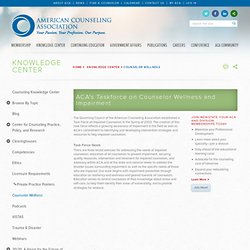 Texas Department of Family and Protective Services (DFPS)
Health Information Privacy
The Office for Civil Rights enforces the HIPAA Privacy Rule, which protects the privacy of individually identifiable health information; the HIPAA Security Rule, which sets national standards for the security of electronic protected health information; and the confidentiality provisions of the Patient Safety Rule, which protect identifiable information being used to analyze patient safety events and improve patient safety.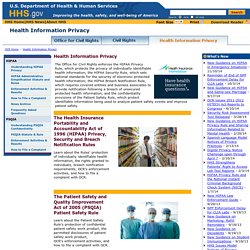 Welcome to the Center for Refugee Services | San Antonio, Texas
National Institute on Aging | The Leader in Aging Research
Family Service Association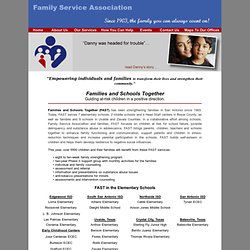 Families and Schools Together (FAST) has been strengthening families in San Antonio since 1993.
Texas Counseling Association - HOME
NAMI San Antonio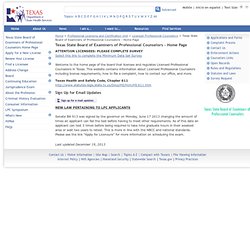 Texas Department of State Health Services, Texas State Board of Examiners of Professional Counselors Home Page
Welcome to the home page of the board that licenses and regulates Licensed Professional Counselors in Texas.
American Mental Health Counselors Association (AMHCA)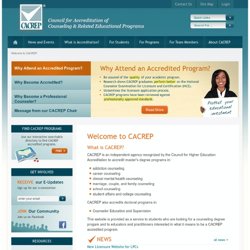 CACREP is an independent agency recognized by the Council for Higher Education Accreditation to accredit master's degree programs in: addiction counseling career counseling clinical mental health counseling marriage, couple, and family counseling school counseling student affairs and college counseling CACREP also accredits doctoral programs in:
Council for Accreditation of Counseling and Related Educational Programs - Welcome to CACREP
ASERVIC
NCDA inspires and empowers the achievement of career and life goals by providing professional development, resources, standards, scientific research, and advocacy.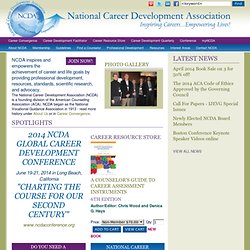 Center for Credentialing and Education
Family Violence Prevention Services | Helping Victims of Domestic Violence in San Antonio since 1977
Register for the CEU Topic: Protective Orders & Stalking Crimes in the State of Texas When: March 16, 2012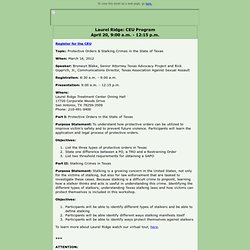 Untitled
National Board for Certified Counselors and Affiliates, Inc.
Welcome to the American Counseling Association