Universidad
Motivational Speaker Word Art: One More Thing, One More Time
Los Andes, sexta en la clasificación de universidades latinoamericanas - Noticias de Salud, Educación, Turismo, Ciencia, Ecología y Vida de hoy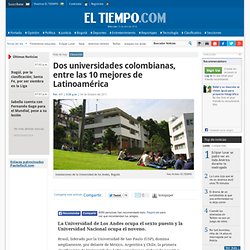 Brasil, liderado por la Universidad de Sao Paulo (USP), domina ampliamente, por delante de México, Argentina y Chile, la primera clasificación de Universidades Latinoamericanas elaborado por QS y publicado este martes en la página TopUniversities.com.
Única colombiana entre las mejores 450 del mundo
La Universidad de los Andes es la única colombiana entre las 450 mejores universidades del mundo según el escalafón mundial realizado por QS World University Rankings y es una de las diez más destacadas de América Latina de acuerdo con el listado 2011. En 2010, la Universidad de los Andes había sido clasificada entre los puestos 501 a 550, con lo cual, en un año, avanza cien puestos en el escalafón internacional de QS. El avance se debe, fundamentalmente, a que la producción académica de los profesores de Uniandes es ahora mucho más reconocida por sus pares en universidades de todo el mundo. Entre las diez universidades más sobresalientes del continente, además de la Universidad de los Andes, hay tres brasileñas, dos argentinas, dos mexicanas y dos chilenas.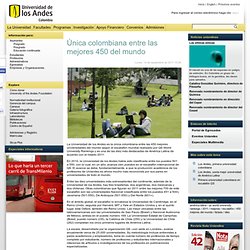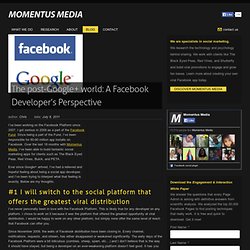 The post-Google+ world: A Facebook Developer's Perspective : Momentus Media
I've been working on the Facebook Platform since 2007.
formato encuesta gmail
Correo Uniandes
SICUA
SICUAPLUS
CTP
Bibliotecas
Catálogo Público
ScienceDirect
Is this a blog? - Thesis discipline…
I Love Charts