Universidad
Motivational Speaker Word Art: One More Thing, One More Time
Los Andes, sexta en la clasificación de universidades latinoamericanas - Noticias de Salud, Educación, Turismo, Ciencia, Ecología y Vida de hoy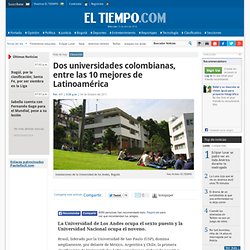 Brasil, liderado por la Universidad de Sao Paulo (USP), domina ampliamente, por delante de México, Argentina y Chile, la primera clasificación de Universidades Latinoamericanas elaborado por QS y publicado este martes en la página TopUniversities.com. (Haga clic aquí para ver el listado) Impulsada por un aumento de la inversión pública en educación, la gran potencia emergente sudamericana colocó 65 universidades entre las 200 primeras de la lista, frente a 35 para México y 25 cada uno para Argentina y Chile. "Mientras numerosos gobiernos en los países desarrollados recortan el gasto en universidades, los BRIC (Brasil, Rusia, India y China) están invirtiendo grandes sumas de dinero en la construcción de universidades de clase mundial", estimó el director de TopUniversities.com, Danny Birne, para quien el denominador común es que todos consideran la educación como un "elemento clave" para su desarrollo.
Única colombiana entre las mejores 450 del mundo
La Universidad de los Andes es la única colombiana entre las 450 mejores universidades del mundo según el escalafón mundial realizado por QS World University Rankings y es una de las diez más destacadas de América Latina de acuerdo con el listado 2011. En 2010, la Universidad de los Andes había sido clasificada entre los puestos 501 a 550, con lo cual, en un año, avanza cien puestos en el escalafón internacional de QS. El avance se debe, fundamentalmente, a que la producción académica de los profesores de Uniandes es ahora mucho más reconocida por sus pares en universidades de todo el mundo. Entre las diez universidades más sobresalientes del continente, además de la Universidad de los Andes, hay tres brasileñas, dos argentinas, dos mexicanas y dos chilenas.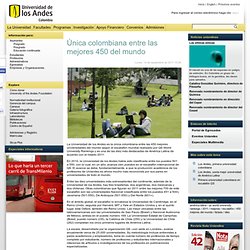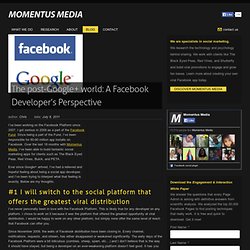 The post-Google+ world: A Facebook Developer's Perspective : Momentus Media
I've been working on the Facebook Platform since 2007. I got serious in 2009 as a part of the Facebook Fund. Since being a part of the Fund, I've been responsible for 80-90 million app installs on Facebook. Over the last 18 months with Momentus Media, I've been able to build fantastic social marketing apps for clients such as The Black Eyed Peas, Red Vines, Buick, and PETA.
formato encuesta gmail
Investigación Convenios Guía de servicios en el campus, 2014-1 Asuntos académicos, servicios, cultura y deportes en Los Andes: manual de consulta para estudiantes, profesores, empleados y público general.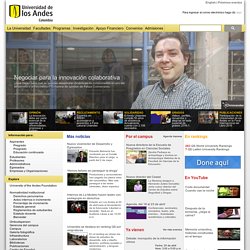 Correo Uniandes
SICUA
SICUAPLUS
CTP
Bibliotecas
Catálogo Público
ScienceDirect
Work or not to work, it is evident that this is just another type of procastination to start working. How I can make this distraction another way to push me towards my work? Anyway, this semester of my life is a little bit weird because I am owning almost all of my time, is true I still have some sort of "to do" in a short term basis but they are not the main ones, I have to start working in my "Master Thesis" but is hard if there are not schedules or any real pressure to do it. It is also true that I planned the main way to develop it at least, but I haven't found the motivation to actually start doing it.
Is this a blog? - Thesis discipline…
I Love Charts