No ethnic ties
Balsamic Red Onion & Vegetable Medley Tarte Tatin with Avocado and Cherry Tomato Bulgur | This Is My Inspiration
Quinoa with Roasted Brussels Sprouts, Leeks and Slivered Almonds
If you've been hanging with me for awhile here on Gluten-Free Goddess, you already know how much I dig quinoa . It's one of my favorite gluten-free grains. I've grown to love- even crave - quinoa's distinct smoky-nutty flavor. More assertive than rice or oatmeal, the taste of quinoa gives gluten-free baked goods and grainy side dishes a certain je ne sais quoi that feels nourishing, healthy, and satisfying all at once.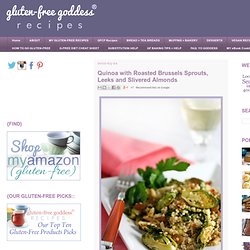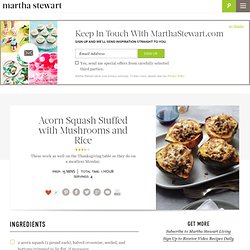 Acorn Squash Stuffed with Mushrooms and Rice
These work as well on the Thanksgiving table as they do on a meatless Monday. Acorn Squash Stuffed with Mushrooms and Rice Everyday Food editor Sarah Carey shows you how to make a showstopping vegetarian entree that will satisfy everyone at the table. Everyday Food, November 2012 Prep Time 15 minutes Total Time 1 hour Yield Serves 4 Add to Shopping List Ingredients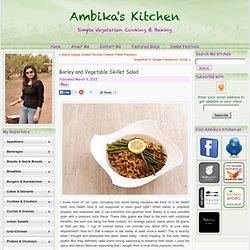 Barley and Vegetable Skillet Salad | Ambika's Kitchen
I know most of "us" (yes, including me) avoid barley because we think of it as health food. And health food is not supposed to taste good right? When barley is prepared properly and seasoned well, it can transform into gourmet food. Barley is a very versatile grain with a pleasant nutty flavor. These little grains are filled to the brim with nutritional benefits, the best one being the fiber content.
Oven-Roasted Chickpeas and Broccoli with Barley
Vegetarian Black-Bean Chili
Save to your Collections Sorry for the inconvenience! Saving is temporarily unavailable as we work through a few kinks in our new recipe design (we hope you like it!). Don't worry, your collections are safe and you'll be able to save recipes again very soon. Review this Recipe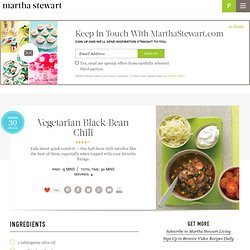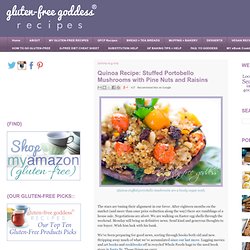 The stars are tuning their alignment in our favor. After eighteen months on the market (and more than once price reduction along the way) there are rumblings of a house sale. Negotiations are afoot. We are walking on Easter egg shells through the weekend. Monday will bring us definitive news. Send kind and generous thoughts to our buyer.
Stuffed Portobello Mushrooms with Pine Nuts and Raisins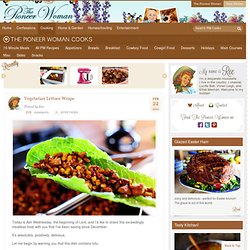 Today is Ash Wednesday, the beginning of Lent, and I'd like to share this exceedingly meatless treat with you that I've been saving since December. It's absolutely, positively, delicious. Let me begin by warning you that this dish contains tofu. I just laughed when I typed "tofu." It ain't exactly…my thang. But guess what?
Roasted Brussels Sprouts and Cranberries with Barley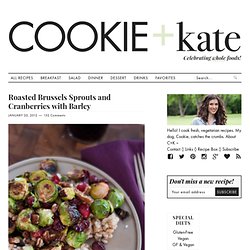 My favorite term of endearment in French has always been mon petit chou chou , which literally translated means "my little cabbage cabbage". The French use it to mean something like "my sweetheart," and it may or may not actually refer to a pastry instead of cabbage. Regardless, the literal translation made me giggle when I learned it in high school and it still makes me giggle today.
My daughter E graduated from middle school on Monday, so she's officially a high schooler now. Yes, a high schooler. Those of you who picture her as she appeared in her first photo on this blog can perhaps appreciate how strange it feels to look at her and see both that nine-year-old girl and the beautiful, smart young woman that she's becoming.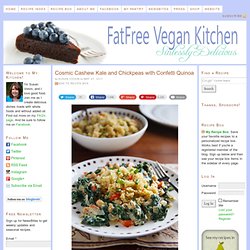 Cosmic Cashew Kale and Chickpeas with Confetti Quinoa
First off, this dish is not called "spinach and chickpeas", it is espinacas con garbanzos . Don't you agree? "Spinach and chickpeas" is something you eat because you should — it is healthy and you aspire to be. Espinacas con garbanzos is something you eat because it sounds sexy, and doesn't taste half bad either. It's hearty and smoky with a little kick, you eat it on little fried bread toasts at a tapas bar in Spain.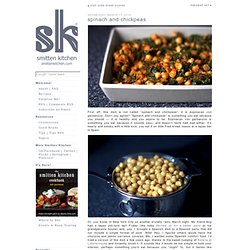 spinach and chickpeas