Web tech tools
100 Ways Google Can Make You a Better Educator. We all know that Google offers a great search program, and you might even use other apps like Gmail or Google Calendar, but have you realized what Google has to offer for online colleges educators and students?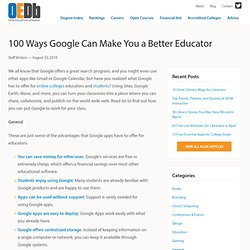 Using Sites, Google Earth, Wave, and more, you can turn your classroom into a place where you can share, collaborate, and publish on the world wide web. Read on to find out how you can put Google to work for your class. General. Top 50 Mobile Learning Resources | Upside Learning Blog | The Best Of Mlearning. The Super Book of Web Tools for Educators.
50 Goanimate Similar Sites | Websites Like Goanimate. What Do You Mean Evernote Could Get Better? Last time I wrote about the way I organize myself completely changed for the better with Evernote.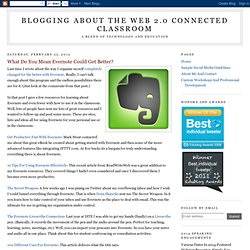 Really, I can't talk enough about this program and the endless possibilities there are for it. (Just look at the comments from that post.) Free Hidden Webtools eBook – blog. EdTech: 100 Tech Tools for Teachers and Students. This post is #12 in DailyTekk's famous Top 100 series which explores the best startups, gadgets, apps, websites and services in a given category.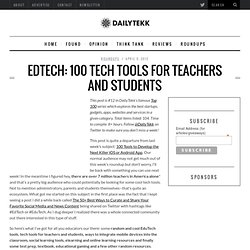 Total items listed: 104. Time to compile: 8+ hours. Follow @DailyTekk on Twitter to make sure you don't miss a week! This post is quite a departure from last week's subject: 100 Tools to Develop the Next Killer iOS or Android App. The 101 Most Useful Websites on the Internet. 06 Apr 2014 The 101 Most Useful Websites on the Internet is a frequently updated list of lesser-known but wonderful websites and cool web apps. couch mode print story Here are some of the most useful websites on the internet that you may now know about.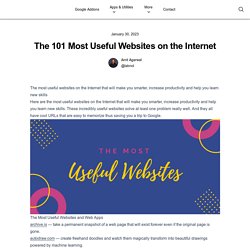 These web sites, well most of them, solve at least one problem really well and they all have simple web addresses (URLs) that you can memorize thus saving you a trip to Google. And if you find this list useful, also check out the expanded version – The Most Useful Websites – which now offers a collection of 150+ undiscovered and incredibly useful websites to enhance your productivity. How to use Jing in your classroom. I've only really mentioned Jing with one or two sentences in previous posts, but I wanted to take the time to elaborate a little more and talk about the different types of things you can actually do with this product.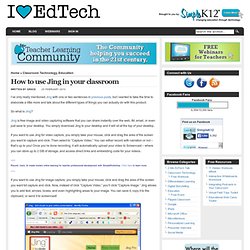 So what is Jing? Jing is free image and video capturing software that you can share instantly over the web, IM, email, or even just save to your desktop. You simply download Jing to your desktop and it will sit at the top of your desktop. Must See: A New Web 2.0 App Store Just For Educators. Quick List Of iPad Resources For The Classroom. One question that comes into my inbox or on Twitter a lot lately is one dealing with iPads.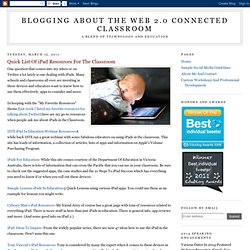 Many schools and classrooms all over are investing in these devices and educators want to know how to use them effectively, apps to consider and more. In keeping with the "My Favorite Resources" theme (last week I listed my favorite resources for talking about Twitter) here are my go-to resources when people ask me about iPads in the Classroom. ISTE iPad In Education Webinar Resources-A while back ISTE ran a great webinar with some fabulous educators on using iPads in the classroom. This site has loads of information, a collection of articles, lists of apps and information on Apple's Volume Purchasing Program.
---