Carollake
How to make a gift bow. 6 Dec We're definitely in full-on holiday spirit over here at the 100LC headquarters!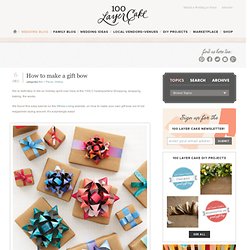 Shopping, wrapping, baking, the works. We found this easy tutorial on the Whole Living website, on how to make your own gift bow out of old magazines laying around. It's surprisingly easy! Step 1: Cut the page lengthwise into nine 3/4-inch-thick strips of heights shown: Three at 11 inches, three at 10 inches, two at 9 inches, and one at 3 1/2 inches.
Twitter
Collaborating. Cool apps. Web tech tools. Spanish teaching resources. Ipad + education. Survival. Top 10 Sites for Educational Games. There's no denying the appeal that online games have on kids.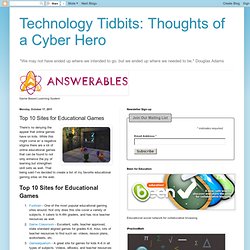 While this might come w/ a negative stigma there are a lot of online educational games that can be found to not only enhance the joy of learning but strengthen skill sets as well. That being said I've decided to create a list of my favorite educational gaming sites on the web. Top 10 Sites for Educational Games Funbrain - One of the most popular educational gaming sites around. Not only does this site cover a variety of subjects, it caters to K-8th graders, and has nice teacher resources as well.Game Classroom - Excellent, safe, teacher approved, state standard aligned games for grades K-6. Games, Contests & Puzzles: Entertaining Ideas for Educating Students. Teachers can take heart in the good news that students are likely to make meaningful progress toward instructional goals when they engage in regular drill, practice, and review of academic material.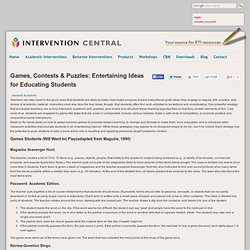 Instructors must also face the bad news, though, that students often find such activities to be tedious and unmotivating. One powerful strategy that successful teachers use to lend interest to academic drill, practice, and review is to structure these learning opportunities so that they contain elements of 'fun.' Like most of us, students are engaged by game-like tasks that are novel or unexpected, include various rewards, foster a safe level of competition, or promote positive and cooperative social interactions.
Getting started
Dexter. Spider. 50 Things Everyone Should Know How To Do. Email Self-reliance is a vital key to living a healthy, productive life.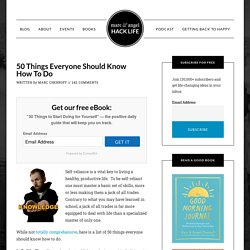 To be self-reliant one must master a basic set of skills, more or less making them a jack of all trades. Contrary to what you may have learned in school, a jack of all trades is far more equipped to deal with life than a specialized master of only one. While not totally comprehensive , here is a list of 50 things everyone should know how to do.
---