Facebook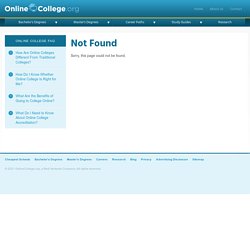 20 Compelling Reasons to Spend Less Time on Facebook and More Time on LinkedIn
If you're like most college students , chances are good that you spend more time on Facebook than you do on LinkedIn. But if you're concerned with furthering your career (and you should be), it's time to switch over to a more professional network. We've shared 20 great reasons why you need to be spending your time on LinkedIn much more than Facebook, and we hope they motivate you to make a change for the better. These reasons should be especially compelling for students earning online bachelor's degrees , as they will have fewer face-to-face networking opportunities and will need to capitalize on their online networking skills to bolster their job hunt. LinkedIn is professional at its core LinkedIn was created to connect professionals in online networking; Facebook was not. Although both services have evolved to include elements of each other, they do still remain true to their original purpose, and LinkedIn excels at presenting a professional front.
Facebook Stats Analysis: Is Fan Page Growth Slowing?
Jim Tobin is president of Ignite Social Media, a leading social media agency , where he works with clients including Microsoft, Samsung, Chrysler, Verizon and more implementing social media marketing strategies. He is also author of the book Social Media is a Cocktail Party . Follow him on Twitter @jtobin .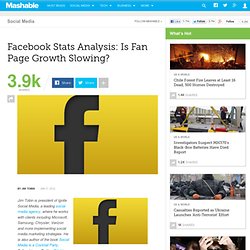 The Early Bird's Guide To Timeline On Facebook Pages
Timeline will become the most effective online tool for brand building whenever Facebook releases the feature for brand pages. Whether or not Facebook announces a beta test of timeline for pages at the first ever marketing conference in New York , here are four things that brands can do to anticipate the changes. Think about adding fun dates like the day you opened your company.
Facebook Adds Action Links To Timeline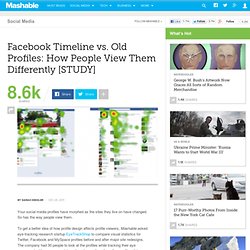 Your social media profiles have morphed as the sites they live on have changed. So has the way people view them. To get a better idea of how profile design affects profile viewers, Mashable asked eye-tracking research startup EyeTrackShop to compare visual statistics for Twitter, Facebook and MySpace profiles before and after major site redesigns. The company had 30 people to look at the profiles while tracking their eye movements.
Facebook Timeline vs. Old Profiles: How People View Them Differently [STUDY]
Facebook Timeline For Pages: Private Messages | JonLoomer.com
The Second Best Use Of Facebook Timeline Yet
Understanding the New Insights: Reach
David Turner , Co-Founder, PageLever January 15, 2012 As part of the Fall 2011 Insights update, Facebook introduced a brand new language for describing the interactions and engagements you're getting on your Pages.
Do.jo
Offers - Facebook Help Center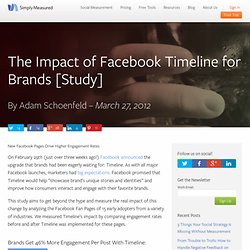 The Impact of Facebook Timeline for Brands [Study]
New Facebook Pages Drive Higher Engagement Rates On February 29th (just over three weeks ago!) Facebook announced the upgrade that brands had been eagerly waiting for: Timeline. As with all major Facebook launches, marketers had big expectations . Facebook promised that Timeline would help "showcase brand's unique stories and identities" and improve how consumers interact and engage with their favorite brands. This study aims to get beyond the hype and measure the real impact of this change by analyzing the Facebook Fan Pages of 15 early adopters from a variety of industries.
How to increase engagement of the Facebook pages using Timeline?
Facebook introduces private messages between business pages and fans
Facebook has begun introducing a new feature which allows business pages to receive private messages from their fans on the social network. The new communications option, which has appeared for Asia-based admins only so far — although this could be down to time difference — is a significant introduction that will allow businesses to interact more closely with customers on the service than ever before. Consumer facing businesses will find the feature particularly useful as it enables more personal communication with individual customers, opening the possible of a greater level of customer service on Facebook.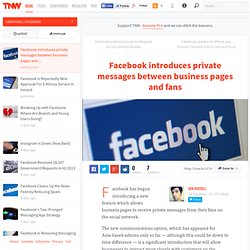 How to Use the Admin Panel on Your Facebook Timeline Page
It's Facebook Friday — each week we'll offer one tip for leveraging Facebook to increase customer awareness of and engagement with your brand or business . This week we'll go over the basic sections and functions of the new Admin Panel for Facebook Pages that have been switched over to Timeline. Still haven't make the switch to Timeline yet?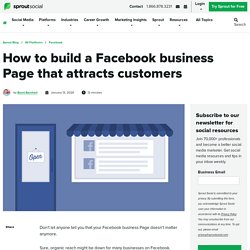 _Product_Guide_041911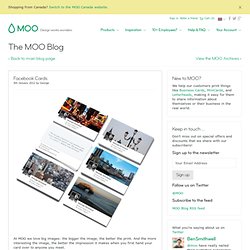 5th January 2012 by George At MOO we love big images: the bigger the image, the better the print. And the more interesting the image, the better the impression it makes when you first hand your card over to anyone you meet. So, when we first heard Facebook were redesigning their profile page to include large format photography, it was pretty clear to us that this would look great on a business card. Then, when we saw the final Timeline design with the profile photo poking up over the large image we knew this was a product that we simply had to create! If you've been living in a hole for the past few months you might be wondering what a Facebook Timeline is.
Facebook Cards | The MOO Blog