Socialmedia
Launch of the "Best by West Midlands 2013: A White... Tickets, West Bromwich. Invalid quantity.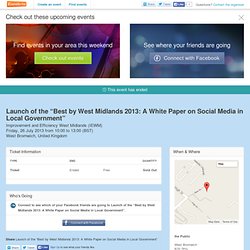 Please enter a quantity of 1 or more. The quantity you chose exceeds the quantity available. Twitter: autoposting, shortlinks, hastags and mentions. Following on from my previous blog post on corporate social media use, here are a few tips to writing good messages on Twitter (or tweets).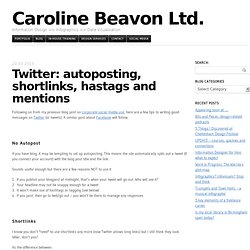 A similar post about Facebook will follow. No Autopost If you have blog, it may be tempting to set up autoposting. This means the site automatically spits out a tweet (if you connect your account) with the blog post title and the link. No hiding place | adaywithoutoj. Continuing with the Likely Lads theme from my earlier pos t one of the most famous episodes is a great example of how much technology has changed our lives in a single generation.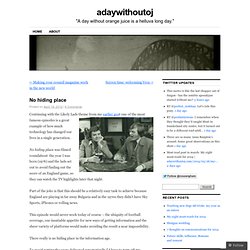 No hiding place was filmed roundabout the year I was born (1976) and the lads set out to avoid finding out the score of an England game, so they can watch the TV highlights later that night. Part of the joke is that this should be a relatively easy task to achieve because England are playing in far away Bulgaria and in the 1970s they didn't have Sky Sports, iPhones or rolling news. This episode would never work today of course – the ubiquity of football coverage, our insatiable appetite for new ways of getting information and the sheer variety of platforms would make avoiding the result a near impossibility.
Hypnotist plans to put Facebookers in trance - Online, Media - T. Chris Hughes has signed up more than 6,000 people for the stunt being run through social networking sites Facebook and Twitter.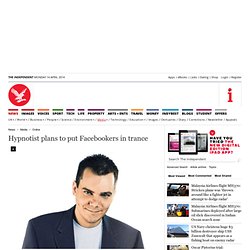 Mr Hughes, 34, said: "It started when someone suggested we do a mass hypnosis. "Nobody has ever tried this before on such a mass scale. There is no world record so we are attempting to set a world record for the largest online group hypnosis session.
Blogs
Rage Against the X Factor and AT&T: The rise of one-click protes. A US blog has issued a call to arms for iPhone owners to unite in a co-ordinated protest against AT&T to overwhelm the network this Friday.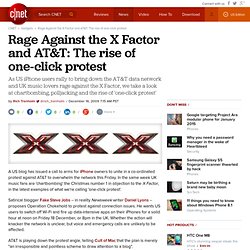 In the same week UK music fans are 'chartbombing' the Christmas number 1 in objection to the X Factor, in the latest examples of what we're calling 'one-click protest'. Satirical blogger Fake Steve Jobs -- in reality Newsweek writer Daniel Lyons -- proposes Operation Chokehold to protest against connection issues. He wants US users to switch off Wi-Fi and fire up data-intensive apps on their iPhones for a solid hour at noon on Friday 18 December, or 8pm in the UK. Whether the action will knacker the network is unclear, but voice and emergency calls are unlikely to be affected. Facebook more than doubled its number of users this year | Techn. A live world premiere of a Shakira video took place exclusively on Facebook but drew less than 100,000 viewers.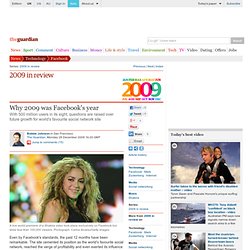 Photograph: Carlos Alvarez/Getty Images Even by Facebook's standards, the past 12 months have been remarkable. Rock & Roll Will Never Die? It Might on Facebook. The graying of the Facebook population seems to have continued according to new stats released today by iStrategyLabs.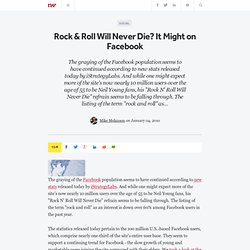 And while one might expect more of the site's now nearly 10 million users over the age of 55 to be Neil Young fans, his "Rock N' Roll Will Never Die" refrain seems to be falling through. The listing of the term "rock and roll" as an interest is down over 60% among Facebook users in the past year. The statistics released today pertain to the 100 million U.S. -based Facebook users, which comprise nearly one-third of the site's entire user base. 9 Tips for Enriching Your Presentations With Social Media.
Olivia Mitchell is a presentation trainer and blogger.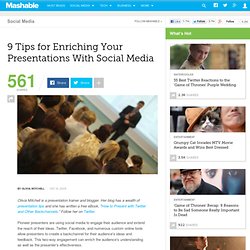 Her blog has a wealth of presentation tips and she has written a free eBook, "How to Present with Twitter and Other Backchannels. " Follow her on Twitter. Pioneer presenters are using social media to engage their audience and extend the reach of their ideas. Silvio Berlusconi: Italian government threatens to block anti-Be. Redirect. Facebook employees know better than most the value of privacy.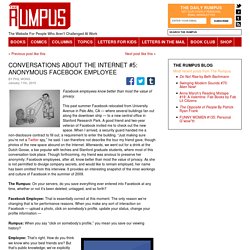 This past summer Facebook relocated from University Avenue in Palo Alto, CA — where several buildings fan out along the downtown strip — to a new central office in Stanford Research Park. A good friend and two-year veteran of Facebook invited me to check out the new space. When I arrived, a security guard handed me a non-disclosure contract to fill out, a requirement to enter the building. "Just making sure you're not a Twitter spy," he said. I can therefore not describe the tour my friend gave, though photos of the new space abound on the Internet. Facebook Connect Comes to MySpace. Facebook blocks social network 'suicide' website - Media, News -
The number one social network also said it had sent a "cease-and-desist" letter to another website, Seppukoo.com, which also helps you kill off your virtual identity.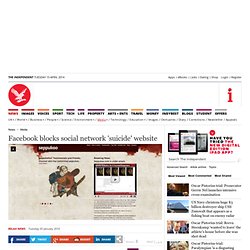 The Web 2.0 Suicide Machine site, which features a hangman's noose on its homepage, deletes profiles, friends and other information on Facebook, MySpace, Twitter and LinkedIn for users who provide their account information. "This machine lets you delete all your energy sucking social-networking profiles, kill your fake virtual friends, and completely do away with your Web2.0 alterego," it says.
Myspace. Twitter. Keep All Those Resolutions You Just Made: Try mySomeday. So, this year, you've resolved to lose weight, take a class, learn a new language and buy a better mobile device. Good for you - but we all know how well most new year's resolutions go. If you want to strike while the iron is hot, we've found mySomeday, a new tool for solidifying, planning and executing your dreams into realities. The site's a little bit like Dorthy.com and a little like LetSimonDecide, but it's also got simple project management tools and interesting social features.
Could mySomeday actually help us stick to our resolutions? A while ago, we tested Dorthy.com, a semantic search engine for aspirations that asked users to list goals, share progress and encourage one another. Teenagers risk death in internet strangling craze - Home News, U. In one, a group of teenagers set out clear guidelines to the practice in an "instructional video", while in several others British voices can be heard. The problem has been increasingly acknowledged in the United States, Canada and France but campaigners warn that Britain is turning a blind eye. The craze is spreading on the internet largely without the knowledge of adults. "This is disturbing, highly dangerous, very risky and the practice should be avoided at all costs," said Professor Steve Field, chairman of the Royal College of General Practitioners.
Seesmic
Plurk. The power of social media | Be Vocal. As the Christmas season comes to a close, and we've seen the usual traditions trudged out across the globe – there were a couple of elements to this year's celebrations which didn't follow the norm and they arose from the power of social media. Someone once said social media is taking us back to ages forgotten – but in new forms. The campaign across social networks (the Facebook group boasts 1m members) for Rage Against the Machine to top the Christmas chart with their old anthem 'Killing in the Name', over X-factor's deer-in-the-media-headlights Jo McElderry, not only shows the real ability social media has to make change, but has also taken us back to a time when chart battles were a staple feature of advent.
We All Live In Public Now. Get Used To It. As the Web becomes more social, privacy becomes harder and harder to come by. People are over-sharing on Facebook and Twitter, broadcasting their whereabouts every ten steps on Foursquare and Gowalla, and uploading photos and videos of their most private moments to the Web for all to see. It's easy to say that privacy is dead, we all live in public now, and just deal with it.
Net Users Warned Of Social Networking Virus. Technology Story | Gravatars Can Leak Users' Email Addresses. RockYou Hack: From Bad To Worse. Yunait launches as a social network for bargains. Event Planning Online: 14 Essential Social Media Tools. 20 Tips to Define And Manage Your Social Networks [Part 1] - Flo.
---