Socialmedia
Launch of the "Best by West Midlands 2013: A White... Tickets, West Bromwich - Eventbrite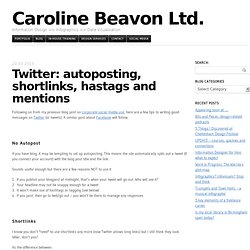 Following on from my previous blog post on corporate social media use , here are a few tips to writing good messages on Twitter (or tweets).
Twitter: autoposting, shortlinks, hastags and mentions
Continuing with the Likely Lads theme from my earlier pos
No hiding place | adaywithoutoj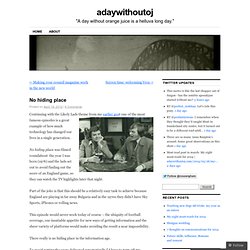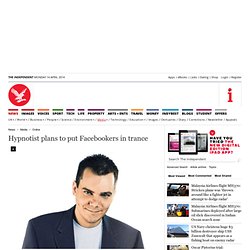 Chris Hughes has signed up more than 6,000 people for the stunt being run through social networking sites Facebook and Twitter.
Hypnotist plans to put Facebookers in trance - Online, Media - T
Rage Against the X Factor and AT&T: The rise of one-click protes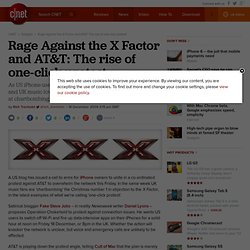 A US blog has issued a call to arms for iPhone owners to unite in a co-ordinated protest against AT&T to overwhelm the network this Friday.
Facebook more than doubled its number of users this year | Techn
A live world premiere of a Shakira video took place exclusively on Facebook but drew less than 100,000 viewers. Photograph: Carlos Alvarez/Getty Images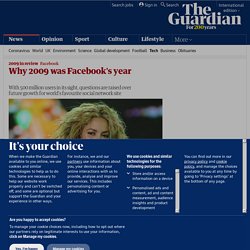 Rock & Roll Will Never Die? It Might on Facebook
9 Tips for Enriching Your Presentations With Social Media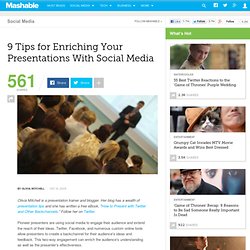 Olivia Mitchell is a presentation trainer and blogger.
Silvio Berlusconi: Italian government threatens to block anti-Be
Facebook employees know better than most the value of privacy . This past summer Facebook relocated from University Avenue in Palo Alto, CA — where several buildings fan out along the downtown strip — to a new central office in Stanford Research Park.
redirect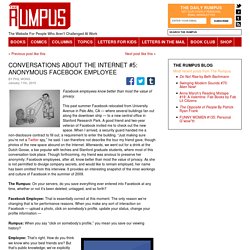 Facebook Connect Comes to MySpace
Facebook blocks social network 'suicide' website - Media, News -
Keep All Those Resolutions You Just Made: Try mySomeday
Teenagers risk death in internet strangling craze - Home News, U
The power of social media | Be Vocal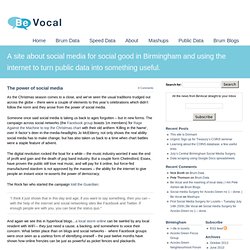 As the Christmas season comes to a close, and we've seen the usual traditions trudged out across the globe – there were a couple of elements to this year's celebrations which didn't follow the norm and they arose from the power of social media. Someone once said social media is taking us back to ages forgotten – but in new forms. The campaign across social networks (the Facebook group boasts 1m members) for Rage Against the Machine to top the Christmas chart with their old anthem 'Killing in the Name', over X-factor's deer-in-the-media-headlights Jo McElderry, not only shows the real ability social media has to make change, but has also taken us back to a time when chart battles were a staple feature of advent.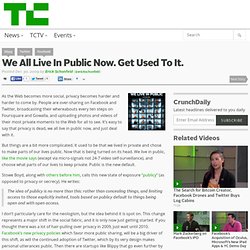 As the Web becomes more social, privacy becomes harder and harder to come by. People are over-sharing on Facebook and Twitter, broadcasting their whereabouts every ten steps on Foursquare and Gowalla, and uploading photos and videos of their most private moments to the Web for all to see. It's easy to say that privacy is dead, we all live in public now, and just deal with it.
We All Live In Public Now. Get Used To It.
Technology Story | Gravatars Can Leak Users' Email Addresses
RockYou Hack: From Bad To Worse
Earlier today news spread that social application site RockYou had suffered a data breached that resulted in the exposure of over 32 Million user accounts. To compound the severity of the security breach, it was found that RockYou are storing all user account data in plain text in their database, exposing all that information to attackers.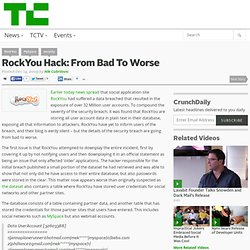 Yunait launches as a social network for bargains
[Spain] In Spain we're struggling to recover from the recession.
Jason Keath is the founder of Social Fresh, a social media conference for marketers.
Event Planning Online: 14 Essential Social Media Tools
The more I started using social networking sites, the more I began feeling disoriented. After a while, I lost count of how many "˜Web 2.0′ services I had signed up with.
20 Tips to Define And Manage Your Social Networks [Part 1] - Flo