Transports
A lot of Arduous plus Sophisticated Extras : Very important Almost every Mobile A extras will be a vey important accessories to get a mobile phone. They can be including the add-ons systems that could boost the appears to be like on the mobile. A extras considerably have an impact on a appears to be like plus form of a products.
Association pour la protection des arbres en bord des routes
Bienvenue sur covoituronssurlepouce.fr
Le service d'autopartage est proposé à Bordeaux par Autocool, une coopérative pionnière du réseau Citiz. Aujourd'hui, plus de 50 voitures sont partagées dans la métropole bordelaise grâce à Citiz. En savoir plus Les Yaris hybrides sont là !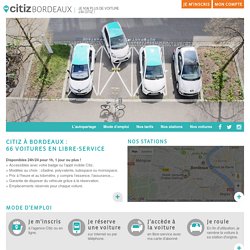 Association Départements Cyclables | Accueil | Accueil