Grafic Design
Ultimate Photoshop Design Resources. There's no doubt that I like to design.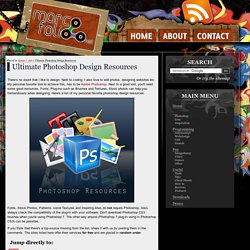 Next to coding, I also love to edit photos, designing websites etc. My personal favorite tool to achieve this, has to be Adobe Photoshop. Next to a good tool, you'll need some good resources. Fonts, Plug-ins such as Brushes and Textures, Stock photos can help you tremendously when designing. Here's a list of my personal favorite photoshop design resources.
Inspiration. Tuto. Fonts. Colors. 34 Cleverly Designed Inventions.
---