Skype
Improve your Skype Experience with Extras - Skype
Pamela Call Recorder | Extras - Skype
Languages: English, Afrikaans, Bulgarian, Chinese, Chinese Simplified, Chinese Traditional, Czech, Danish, Dutch, Esperanto, Estonian, Finnish, French, German, Greek, Hebrew, Hungarian, Icelandic, Italian, Japanese, Latvian, Lithuanian, Norwegian, Polish, Portuguese, Romanian, Russian, Slovak, Spanish, Swedish, Turkish Skype Call Recording Record Skype audio up to 15 minutes Record Skype video up to 5 minutes Skype Chat Recording Record calls automatically Play sounds during calls Auto Chat Reply Very easy to use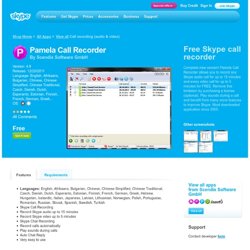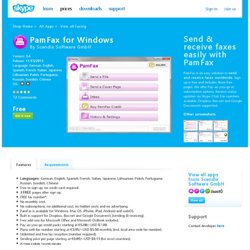 Languages: German, English, Spanish, French, Italian, Japanese, Lithuanian, Polish, Portuguese, Russian, Swedish, Chinese Free to sign up, no credit card required. 3 FREE pages after sign up. FREE fax number*. No monthly cost. No subscriptions, no additional cost, no hidden costs and no advertising.
Pamfax for Skype Business Edition | Extras - Skype
Languages: English Record Skype video calls and create complete video productions from them. Capture every frame at maximum resolution for the best quality possible. Create MP4 or WMV files suitable for sharing with others. Edit the video using the built in Post-Production Console. Alter the person(s) shown at any point (this side, other side or both sides).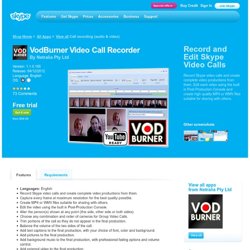 VodBurner video recorder | Extras - Skype
TalkAndWrite for Skype BASIC | Extras - Skype
PrettyMay Call Recorder for Skype - Basic version | Extras - Sky
Languages: English, Chinese, Bulgarian, French, Italian, Albanian, Spanish, Portuguese Brazil, Swedish, Japanese, Breton, Korean, Danish, Serbian, Slovak, Russian, Finnish, Polish, German, Malay Record Skype calls, Record conference calls, saving them as MP3 or WAV files in a separate channel. Skype answering machine. Play recorded calls/voicemails/audio files (.mp3 or .wav format) in conversations.