Fashion Sites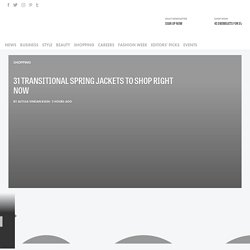 Samsung spends an estimated $13 billion a year on marketing, and one of its targets is fashion industry influencers. We take a look how the company has managed to convert a few of the majors. Read more → Summer's almost here. Have you found your fashion internship yet? Read more →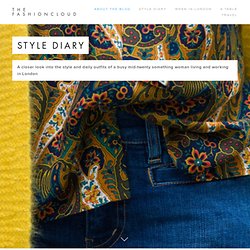 The Fashion Cloud
If you have no interest in clothes or fashion trends - and you are not my dad - then you will probably not find this section of the blog of any interest. But you might find the food and/or the travel section interesting, so don't leave just yet. Style has always fascinated me to a certain extent and I am a huge admirer of women (and men) who make style seem effortless. I am more often than not on the go and too busy working to spend time worrying about fashion and trends but I have always made an effort to look the part - in order to play the part (better).
You know Frank —he's been writing about menswear, sales, television, new shops, the recession, Lisa Loeb , the Golden Girls and getting blasted for Racked for over two years. Well, we think it's time you got to know him and his quirky-irreverent views on life and fashion even better with his column: Love, Frank . Taking the form of an open letter and always signed with love, Frank will rant about whatever style-related conundrum he encounters in a given week. So buckle your two-toned leather Moschino belts, folks, it's going to be … Something. If you have a closet like Mariah Carey—via Three Sixty Ecotique —you might never need to clean it out. The rest of us, however …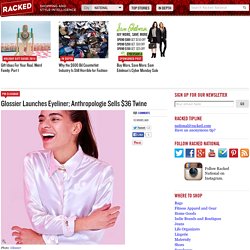 25 Brigitte Bardot-Inspired Fashions - From High-Waisted Hot Pants to Beehives and Cat Eyes (CLUSTER)
These Brigitte Bardot-inspired fashions show off the cat eyes, massive beehive hair, and bikinis the 60s-era sex kitten was known for rocking in her heyday. French former actress Brigitte Bardot may be out of the public eye, but that doesn't stop the fashion and beauty industries to continue to draw inspiration from the sensual and voluptuous glamazon. Check out the highly sought after 'Brigitte Bardot' look in these fashion editorials, makeup, hair and clothing trends inspired by the blonde bombshell herself.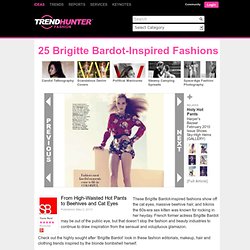 Daily Front Row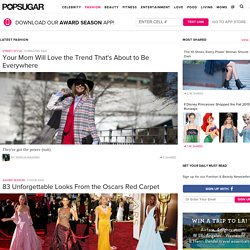 Dear Fashionologie readers, The fashion world is all about reinvention, and we're working on our next big iteration. You can now find our incredible, unique take on fashion news on POPSUGAR Fashion. We still want to share our love for fashion, designers, runway collections, and everything stylish as we have been for years. Everything you love will be there, and you can also get it delivered right to your inbox by signing up for our emails below.