Social Media in Education
Using Social Media to Break Down Silos and Connect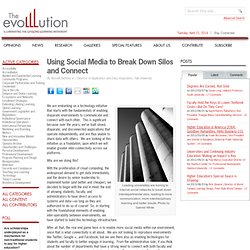 Using Social Media to Break Down Silos and Connect - The EvoLLLution | The EvoLLLution
Why Do We Connect: The Power of Online PD
The Flipped Classroom, as most know, has become quite the buzz in education. Its use in higher education has been given a lot of press recently.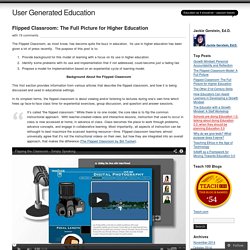 Hybridity, pt. 3: What Does Hybrid Pedagogy Do? | Hybridity
This is the third in a series of articles that investigates hybridity as it relates to our positions as teachers and scholars, but also as learners, composers, and community members.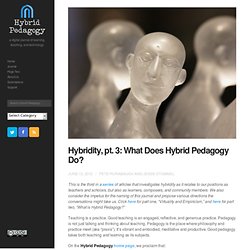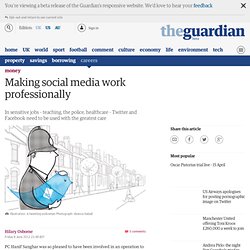 PC Hanif Sanghar was so pleased to have been involved in an operation to catch two vicious attackers that he tweeted he had "arrested the offenders", even though the suspects had yet to stand trial. The tweet was deleted and he was reprimanded. Doctors and nurses at a hospital in Swindon were suspended after posting pictures of themselves lying face down on resuscitation trolleys, ward floors and on the Wiltshire air ambulance helipad on Facebook as part of an internet craze called "the lying down game". And in America teacher Ashley Payne lost her job after a parent spotted a Facebook picture of her with a glass of wine in one hand and a beer in the other. Reading these stories could give you the impression that there are certain careers where using social media is a recipe for disaster.
Making social media work professionally | Money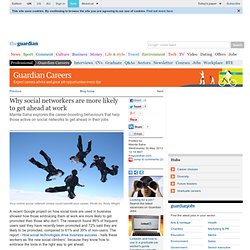 Why social networkers are more likely to get ahead at work
Your online social network circles could benefit your career. Photo by: Andy Wright A recent Google project on how social tools are used in business showed how those embracing them at work are more likely to get promoted than those who don't.
Social Media in Higher Education | Dr. Rey Junco's Blog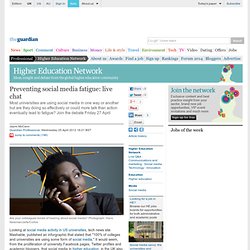 Are your colleagues bored of hearing about social media? Photograph: Hans Neleman/zefa/Corbis Looking at social media activity in US universities, tech news site Mashable, published an inforgraphic that stated that "100% of colleges and universities are using some form of social media." It would seem, from the proliferation of university Facebook pages, Twitter profiles and academic bloggers, that social media in higher education, in the UK also, has reached fever pitch.
Preventing social media fatigue: live chat | Higher Education Network | Guardian Professional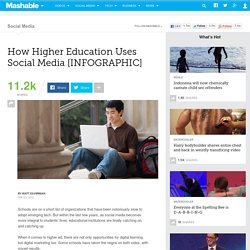 Schools are on a short list of organizations that have been notoriously slow to adopt emerging tech.
Greetings from sunny San Diego.
SocialEdCon: What the Heck Do We Do with Social Media?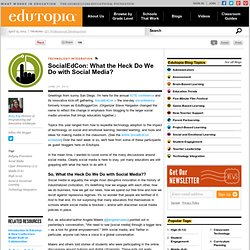 Is Our Higher Education System Fit for Purpose? | Energise 2-0
As regular readers of the Energise 2-0 blog will know, we have a particular interest in the impact of social media on Higher Education. Previous articles have posed a number of pertinent questions relating to the future of Higher Education in a social world.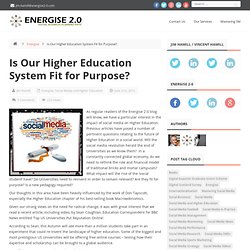 Social Media in Higher Education [Case Study @CarlowU]
Posted by Guest on June 14, 2012 · 3 Comments Social media use in higher education fascinates us. So we talked our friend @JennyMacBeth, the comms project manager at Carlow University, into sharing this case study so that you can see what's worked, what hasn't and maybe get some food for thought that will help with your own social media efforts. To our way of thinking and pretty much across the board, the things that Jenny has shared in this case study are applicable whether you're using social media in the higher education space—or anywhere.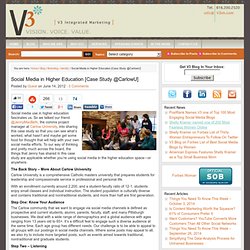 Social Media in Higher Education - Barriers & Digital Literacy
We discover and share an incredible amount of insightful articles and resources through our professional and social media networks.
Useful Social Media Resources for Higher Education Professionals | The Spelman & Johnson Group
Digital literacy can boost employability and improve student experience | Higher Education Network | Guardian Professional
"The nature of knowledge is changing and, in this digital age, our definition of basic literacy urgently needs expanding" Photograph: Nick Gregory / Alamy/Alamy The nature of knowledge is changing and, in this digital age, our definition of basic literacy urgently needs expanding. With an estimated 90% of UK jobs requiring some level of IT competency, the notion of digital literacy – those capabilities that equip an individual for living, learning and working in a digital society – is one that needs to be taken seriously by colleges and universities.
6.2.12 | Under a new set of social media guidelines (pdf) issued by the New York City Department of Education, teachers are required to obtain a supervisor's approval before creating a "professional social media presence," which is broadly defined as "any form of online publication or presence that allows interactive communication, including, but not limited to, social networks, blogs, internet websites, internet forums, and wikis."
Why Teachers Need Social Media Training, Not Just Rules
Part One Update : Part Two has been posted.