Careers
Interview tip: Tell me about yourself?
'Tell me about yourself' is one of the most common questions asked at an interview, but people rarely prepare for it. Job seekers plan their strengths, their weaknesses and have an answer for the standard 'where do you see yourself in 5 years?', but few give this question any thought. Before preparing an answer for any question, always ask yourself: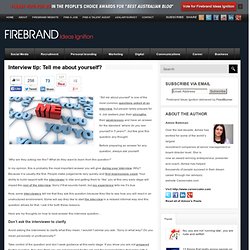 Three mistakes to avoid in your career
We've all messed up at some stage in our careers – some more than others, and some with far bigger repercussions than others. So most of us know the feeling to varying degrees. But putting these aside for a moment, there are three common mistakes that stand in the way of you getting ahead in the workplace. No plan I don't know about you but when I started my working life I had no plan.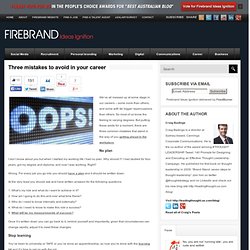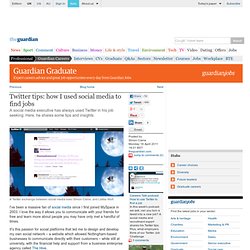 Twitter tips: how I used social media to find jobs | Guardian Careers | theguardian.com
A Twitter exchange between social media exec Simon Caine, and Letitia Wolf. I've been a massive fan of social media since I first joined MySpace in 2003. I love the way it allows you to communicate with your friends for free and learn more about people you may have only met a handful of times. It's this passion for social platforms that led me to design and develop my own social network – a website which allowed Nottingham-based businesses to communicate directly with their customers – while still at university, with the financial help and support from a business enterprise agency called The Hive. The venture didn't survive past its difficult first year, but it did lead me into working with businesses in Nottingham, helping them develop their online presence on social networks including Facebook, Twitter and LinkedIn. Upon graduation I wasn't about to give up on social media, so I decided to incorporate it into my search for a job.
Many see Twitter as a place for a bit of casual celebrity stalking, micro-blogging their day-to-day lives and occasionally begging for a retweet from their childhood hero, but many underestimate its potential for networking opportunities.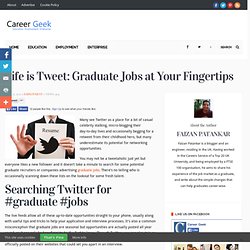 Career Geek Life is Tweet: Graduate Jobs at Your Fingertips - Career Geek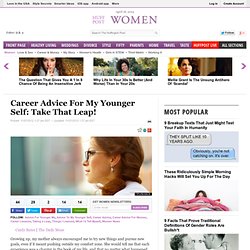 Cindy Bates | The Daily Muse
Career Advice For My Younger Self: Take That Leap!
Beautiful days seem gray.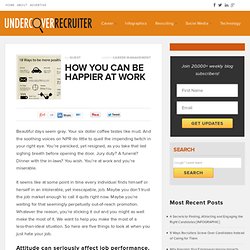 How You Can Be Happier at Work
GoThinkBig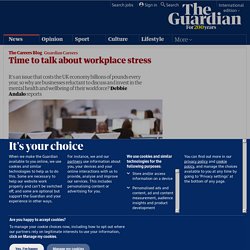 Mental health issues in the workplace cost the UK economy more than £15bn a year in lost revenue – but there is no single solution to improving employees' wellbeing. If the UK is to wipe out the estimated 140m working days lost every year through staff sickness, there needs to be a culture change right across the business sector, from the small- and medium-sized enterprises (SMEs) to the giant international corporates. These were just some of the arguments put forward at a recent roundtable, hosted by the Guardian in association with Bupa , which considered what businesses can do to guarantee a healthy workforce and a healthier balance sheet.
Time to talk about workplace stress
Changing jobs? It's important to make the transition smooth and avoid any gaps Photograph: Martin Argles for the Guardian
Changing careers: a step-by-step guide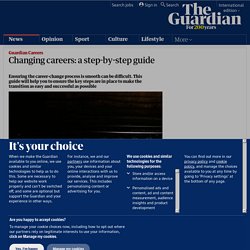 longridge-hooley-nicec-journal-oct2012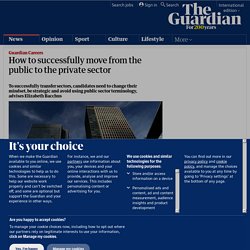 Public sector workers need to be strategic when looking to cross into the corporate world. Photograph: Luke Macgregor/Reuters It's been predicted that up to 500,000 public sector jobs could be cut by the end of 2015 .
How to successfully move from the public to the private sector
Rekindle the romance with your job
Posted on July 28th, 2012 by david Think back for a moment and remember when you were really excited to get the interview for the job you're in.
Olympics 2012: Get Competitive In Your Career Field
There are few events more inspiring than the Olympics.
Criticism of has been raining down on careers services professionals. Helen Stringer says the profession is meeting the challenges of the graduate market head on. Photograph: Mahesh Kumar A/AP
In defence of university careers services | Higher Education Network | Guardian Professional
Back in May, Josh James, the co-founder of analytics company Omniture and now CEO of business intelligence startup Domo , announced an eyebrow-raising idea: He was kicking off an eight-week initiative that would require every one of Domo's 130 employees to become active on social media.
Domo's Josh James: We're Making Every Employee Embrace Social Media, And It's Paying Off
There's a lot I'd like to say about women and science, but most must wait for another day.
Some facts on getting girls into science | The dual carriageway to Damascus
UWS - University of West Scotland - Social Media for Your Career
Do me a Favor and Spruce up Your LinkedIn Summary and Specialties
Joan Stringer: There are jobs by the thousand awaiting Scots graduates - News
Personality: Don't Start Your Job Search Without It
Why social networkers are more likely to get ahead at work
Positive attitudes! | Go for it!
Career Networking: Getting Past Social Media Barricades to Success
Ultimate LinkedIn Guide for 2012 Grads
Tweet your way to the top | Jobs & Careers Magazine
How Gen Y Scores Jobs With Social Search
Home | Prospects at University of the West of Scotland - Careers & Employability Service
10 things every graduate should know before they start job hunting | Money
Making a Great First Impression - Communication Skills Training from MindTools