21st century
August 31, 2010 By: Maryellen Weimer, PhD in Teaching and Learning Problem solving is "what you do when you don't know what to do."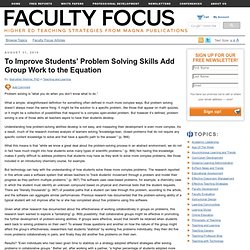 To Improve Students' Problem Solving Skills Add Group Work to the Equation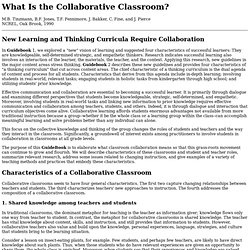 The Collaborative Classroom
M.B. Tinzmann, B.F. Jones, T.F. Fennimore, J. Bakker, C.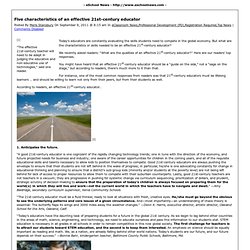 eSchool News » Five characteristics of an effective 21st-century educator » Print
Posted By Meris Stansbury On September 9, 2011 @ 8:15 am In eClassroom News,Professional Development (PD),Registration Required,Top News | Comments Disabled "The effective 21st-century teacher will need to be adept in judging the educative and non-educative use of technologies," said one reader. Today's educators are constantly evaluating the skills students need to compete in the global economy. But what are the characteristics or skills needed to be an effective 21 st -century educator? We recently asked readers: "What are the qualities of an effective 21 st -century educator?" Here are our readers' top responses.
The Evolution of a 21st Century Educator | Smarter Science
September 3, 2011 I've been reading a lot about the flipped model of classroom instruction, where students watch instructional videos for homework, and then do the practice and problem solving during class time. Here's a video of the process being explained by Aaron Sams .
Professional blog | 21st Century Educator
Andrew Miller is a consultant for the Buck Institute for Education (1) , an organization that specializes in project-based curriculum. See his previous blogs for Edutopia (2) and follow him on Twitter @betamiller (3) . Driving questions (DQ) can be a beast.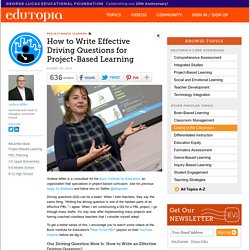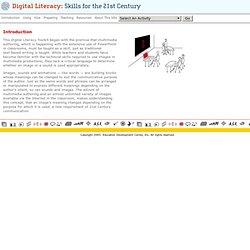 Digital Literacy: Skills for the 21st Century: Introduction
This Digital Literacy Toolkit began with the premise that multimedia authoring, which is happening with the extensive use of PowerPoint in classrooms, must be taught as a skill, just as traditional text-based writing is taught. While teachers and students have become familiar with the technical skills required to use images in multimedia productions, they lack a critical language to determine whether an image or a sound is used appropriately. Images, sounds and animations — like words — are building blocks whose meanings can be changed to suit the communicative purpose of the author. Just as the same words and phrases can be arranged or manipulated to express different meanings depending on the author's intent, so can sounds and images.
www.jitt.org