Partitions et tab
Spirit is the debut album by British singer Leona Lewis, released by Syco Music in November 2007 in the United Kingdom and Ireland, followed by a worldwide release during early 2008. After winning the third series of reality singing contest The X Factor in December 2006, Lewis began recording the album in Sweden, UK and the United States, working with a variety of writers and producers. <a href="http://www.kokini.com">free piano arrangements</a> Songlist: Take a Bow Angel Whatever It Takes Forgive Me Yesterday Bleeding Love Better In Time I Will Be I'm You Misses Glass The First Time Ever I Saw Your Face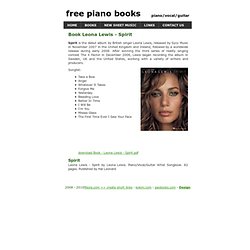 free piano books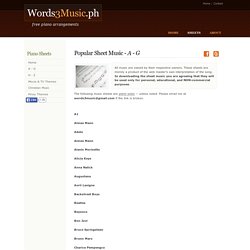 Words and Music - free piano music sheets
All music are owned by their respective owners. These sheets are merely a product of the web master's own interpretation of the song. In downloading the sheet music you are agreeing that they will be used only for personal, educational, and NON-commercial purposes . The following music sheets are piano solos -- unless noted. Please email me at words3music@gmail.com if the link is broken. Wise Up [ midi ] - The song lip-synched by the cast of Magnolia towards the movie's ending.
aw-btb-27192.tk
External Link
.::. six.cordes : les cours de guitare .::. Forum de discussions sur l'apprentissage et les cours de guitare en général. .::.
Map of your head (Muse) - Partition pour Guitare - Tabs, tablature, GP...
Toutes les tablatures publiées sur EasyZic.com sont des représentations d'interprétations personnelles, approximatives de chansons protégées par droits d'auteurs. Conformément à l'article L.122-5 du Code de la propriété intellectuelle, seule l'utilisation de cette représentation pour un usage privé, réduite au cercle de famille est autorisée. Acheter la vraie partition Télécharger gratuitement les accords Ce fichier est au format PDF. Pour l'ouvrir, vous aurez besoin d'utiliser l'application Adobe Reader . 7 autres partitions sont disponibles pour le morceau Map of your head .
Time Of Your Song Chords by Matisyahu