Andorra
Andorra Travel Information and Travel Guide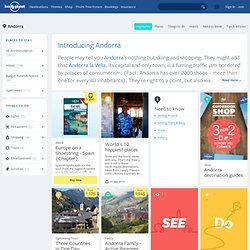 People may tell you Andorra's nothing but skiing and shopping. They might add that Andorra la Vella , its capital and only town, is a fuming traffic jam bordered by palaces of consumerism. (Fact: Andorra has over 2000 shops – more than one for every 40 inhabitants). They're right to a point, but also way off course. Shake yourself from Andorra la Vella 's tawdry embrace, take one of only three secondary roads in the state and discover some of the most dramatic scenery in all of the Pyrenees. <div><a href="http://ad.doubleclick.net/jump/2009.lonelyplanet/rest-of-site;dcopt=ist;ctt=europe;cnty=andorra;tnm=overview;sz=300x250;ord=123456789?"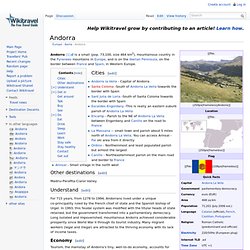 Andorra [1] is a small (pop. 73,100, size 464 km 2 ), mountainous country in the Pyrenees mountains in Europe , and is on the Iberian Peninsula , on the border between France and Spain , in Western Europe. [ edit ] Cities Andorra la Vella - Capital of Andorra Santa Coloma -South of Andorra La Vella towards the border with Spain Sant Julia de Loria -South of Santa Coloma towards the border with Spain Escaldes-Engordany -This is really an eastern suburb parish of Andorra La Vella Encamp - Parish to the NE of Andorra La Vella between Engordany and Canillo on the road to France La Massana -- small town and parish about 5 miles north of Andorra La Vella . You can access Arinsal - Pal ski area from it directly Ordino - Northernmost and least populated parish but almost the largest Canillo - Northeasternmost parish on the main road and border to France Arinsal - Small village in the north west
Andorra travel guide
Andorra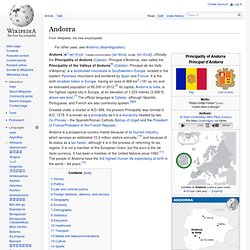 Andorra ( i / æ n ˈ d ɔr ə / ; Catalan pronunciation: [ənˈdorə] , locally: [anˈdɔra] ), officially the Principality of Andorra ( Catalan : Principat d'Andorra ), also called the Principality of the Valleys of Andorra , [ 6 ] ( Catalan : Principat de les Valls d'Andorra ), is a landlocked microstate in Southwestern Europe , located in the eastern Pyrenees mountains and bordered by Spain and France . It is the sixth smallest nation in Europe , having an area of 468 km 2 (181 sq mi) and an estimated population of 85,000 in 2012. [ 2 ] Its capital, Andorra la Vella , is the highest capital city in Europe, at an elevation of 1,023 metres (3,356 ft) above sea level . [ 7 ] The official language is Catalan , although Spanish, Portuguese, and French are also commonly spoken. [ 8 ] [ 9 ] Created under a charter in 988, the present Principality was formed in 1278. It is known as a principality as it is a monarchy headed by two co-princes – the Bishop of Urgell and the President of France .
hotels, esquí, activitats, previsió meteorològica, accessos... al Principat d'Andorra
The World Factbook
Andorra country profile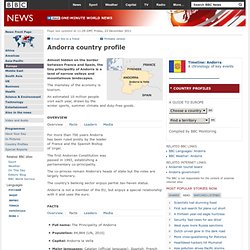 Almost hidden on the border between France and Spain, the tiny principality of Andorra is a land of narrow valleys and mountainous landscapes. The mainstay of the economy is tourism. An estimated 10 million people visit each year, drawn by the winter sports, summer climate and duty-free goods.
Touristic Website of Andorra