Cabello
Re-purposing: Tshirts into 5-strand-braided-headbands. I was walking through Target a few weeks ago and noticed this little knit fabric headband that was not just braided together…….but woven.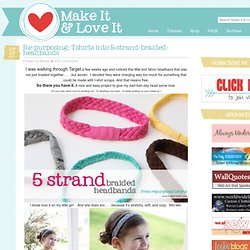 I decided they were charging way too much for something that could be made with t-shirt scraps. And that means free. Find out about Braids: Our Top 7 Picks. By kenziepoo | It's so hard to believe that fall will be upon us soon.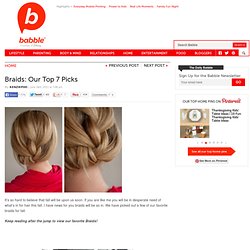 If you are like me you will be in desperate need of what's in for hair this fall. I have news for you braids will be so in. We have picked out a few of our favorite braids for fall. Keep reading after the jump to view our favorite Braids! Braided Headband Tutorial. It's chilly outside here today and I'm loving it!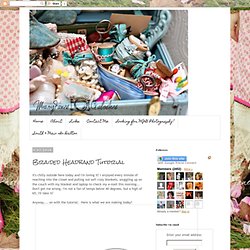 I enjoyed every minute of reaching into the closet and pulling out soft cozy blankets, snuggling up on the couch with my blanket and laptop to check my e-mail this morning... Don't get me wrong, I'm not a fan of temps below 40 degrees, but a high of 65, I'll take it! ...love Maegan: hair tutorials Fashion+Home+Lifestyle.
DIY Bejeweled Hair Combs | Pretty Brooches for your Hair I fell in love with hair combs the other day after writing 18 Statement Hair Combs | Brooches for your Hair and was totally… Faux Fringe Hair Tutorial… Bangs w/out Cutting your Hair… BlogHer asked if I wouldn't mind choosing a video from their vast inventory of BlogHerTV segments and recreate one of the beauty or hair…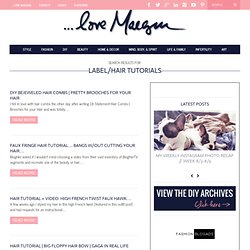 How to Make Girls' Hair Wraps" Hair wrapping is a really fun thing girls can do when they get together.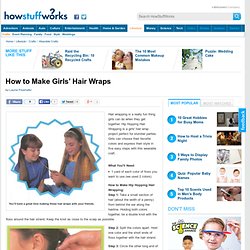 Hip Hopping Hair Wrapping is a girls' hair wrap project perfect for slumber parties. Girls can choose their favorite colors and express their style in five easy steps with this wearable craft. What You'll Need: 1 yard of each color of floss you want to use (we used 2 colors) How to Make Hip Hopping Hair Wrapping: ...love Maegan: * Faux Bob Hair Tutorial * Fashion+Home+Lifestyle. One of my absolute favorite hairstyles is the messy/loosely curled, just above shoulder length, bob.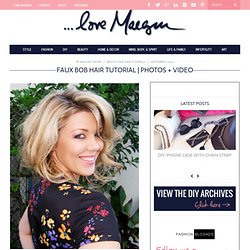 It reminds me of Cybill Shepherd from the 80′s, specifically in one of my favorite movies Chances Are But this faux bob was so ridiculously easy it made me wonder why on earth I never tried it before. Disclaimer #1: I start off slow, lol, it's been a while since I've done a hair-to. Disclaimer #2: I'm pretty sure I left in a few bits that should have been saved for an outtakes video but they made me laugh so ….whatevs.
Enjoy… HAIR: How to get Vintage Style Curls without Heat! How To Style Maiden Braids. Last month I did a makeover story with Kelsie and had many requests for a maiden braid tutorial.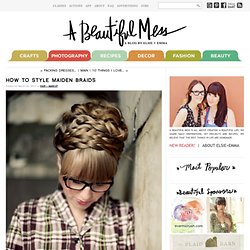 Yesterday she came in and we photographed these simple step by steps. Kelsie has extremely long and thick hair, but anyone with shoulder length or longer can do these braids (see my photo below for an example). Steps 1-2: Braid two strands on each side of a center part. Steps 3-5: Wrap braids around the crown of your head and pin in place with one pin each. Step 6: Arrange braids so that they cover the front of your head like a headband.
---