Cabello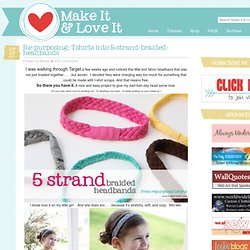 I was walking through Target a few weeks ago and noticed this little knit fabric headband that was not just braided together…….but woven. I decided they were charging way too much for something that could be made with t-shirt scraps. And that means free.
Find out about Braids: Our Top 7 Picks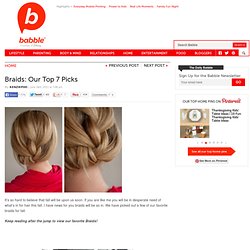 By kenziepoo | It's so hard to believe that fall will be upon us soon.
It's chilly outside here today and I'm loving it! I enjoyed every minute of reaching into the closet and pulling out soft cozy blankets, snuggling up on the couch with my blanket and laptop to check my e-mail this morning... Don't get me wrong, I'm not a fan of temps below 40 degrees, but a high of 65, I'll take it!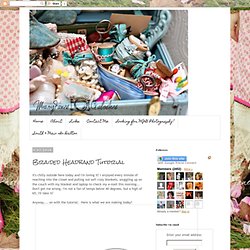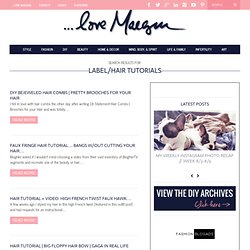 DIY Bejeweled Hair Combs | Pretty Brooches for your Hair
You'll have a great time making these hair wraps with your friends. Hair wrapping is a really fun thing girls can do when they get together.
How to Make Girls' Hair Wraps"
...love Maegan: * Faux Bob Hair Tutorial * Fashion+Home+Lifestyle
One of my absolute favorite hairstyles is the messy/loosely curled, just above shoulder length, bob. It reminds me of Cybill Shepherd from the 80′s, specifically in one of my favorite movies Chances Are Disclaimer #1: I start off slow, lol, it's been a while since I've done a hair-to. Disclaimer #2: I'm pretty sure I left in a few bits that should have been saved for an outtakes video but they made me laugh so ….whatevs. Enjoy… CLICK HERE for my vimeo page it looks a little better there.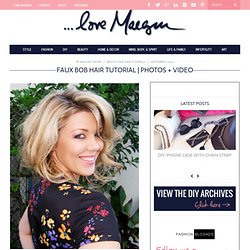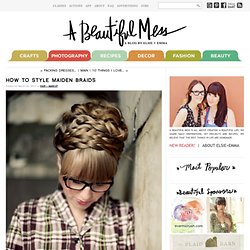 Last month I did a makeover story with Kelsie and had many requests for a maiden braid tutorial. Yesterday she came in and we photographed these simple step by steps.