Intellect
Kara Kreutzberg (kreutz) on Pinterest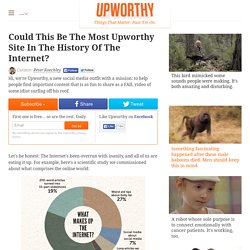 Could This Be The Most Upworthy Site In The History Of The Internet?
Let's be honest: The Internet's been overrun with inanity, and all of us are eating it up. For example, here's a scientific study we commissioned about what comprises the online world: We can't change all that.
magpie nest
Tags:bodies, children/youth, consumption/consumerism, discourse/language, gender, inequality, marketing/brands, media, political economy, sex/sexuality, social construction, violence, feminism, media literacy, representation, self-objectification, sexism, sexual objectification, stereotypes, symbolic annihilation, 06 to 10 mins, 61+ minsYear: 2011Length: 90:00, 8:52Access:no online access, Vimeo preview Summary: Jennifer Siebel Newsom directs this documentary, and following in the steps of the Killing Us Softly films, it draws attention to the very problematic ways women and girls are represented in contemporary media. To tell the story, Newsom weaves together a number of interviews from an array of experts and activists, including Erika Falk, Jennifer Pozner, Jean Kilbourne, Condoleezza Rice, Nancy Pelosi, Cory Booker, Katie Couric, Rachel Maddow, Margaret Cho, Rosario Dawson and Gloria Steinem.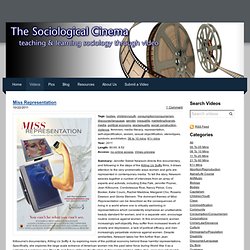 Miss Representation - The Sociological Cinema
About Us
COMMENTARY is America's premier monthly magazine of opinion and a pivotal voice in American intellectual life. Since its inception in 1945, and increasingly after it emerged as the flagship of neoconservatism in the 1970s, the magazine has been consistently engaged with several large, interrelated questions: the fate of democracy and of democratic ideas in a world threatened by totalitarian ideologies; the state of American and Western security; the future of the Jews, Judaism, and Jewish culture in Israel, the United States, and around the world; and the preservation of high culture in an age of political correctness and the collapse of critical standards. Many of COMMENTARY's articles have been controversial, and more than a few have been hugely influential, touchstones for debate and discussion in universities, among policy analysts in and out of government, within the ranks of professionals and community activists of all kinds, and in circles of serious thought worldwide.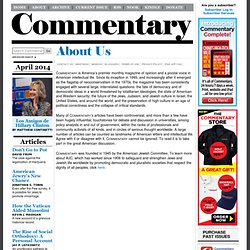 Dude, This Diplomat's No Stiff
[Editor's note: In celebration of the holidays, we're spending the next two Tuesdays by counting down the top 12 Flavorwire features of 2012. This post, at #8, was originally published May 11th.] Every writer, no matter how serious, needs to let off a little steam now and then. Those oh-so-important mental health days might be filled with hobbies (from baking to beekeeping) or drinking (every writer's default hobby), or just plain goofing around with friends.
Extremely Silly Photos of Extremely Serious Writers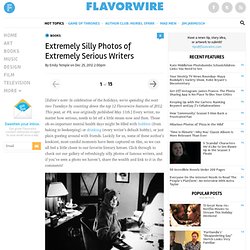 - Rimel Neffati
Brain Forest | Connectome: How the Brain's Wiring Makes Us Who We Are
Literature Project is a collection of free classic books, poems, speeches, and plays. For each piece of literature, we offer a free online eBook that can be easily read and searched. In addition, each online book includes links to a downloadable eBook version.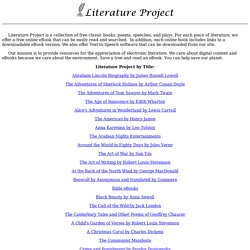 Rape as Prime Time Comedy - The Sociological Cinema
By: Maria Popova "Through our scopes, we see ourselves. Every new lens is also a new mirror." Given my longtime fascination with the so-termed digital humanities and with data visualization, and my occasional dabbles in the intersection of the two, I've followed the work of data scholars Erez Aiden and Jean-Baptiste Michel with intense interest since its public beginnings. Now, they have collected and contextualized their findings in the compelling Uncharted: Big Data as a Lens on Human Culture (public library) — a stimulating record of their seven-year quest to quantify cultural change through the dual lens of history and digital data by analyzing the contents of the 30,000 books digitized by Google, using Google's Ngram viewer tool to explore how the usage frequency of specific words changes over time and what that might reveal about corresponding shifts in our cultural values and beliefs about economics, politics, health, science, the arts, and more.