Intellect
Kara Kreutzberg (kreutz) on Pinterest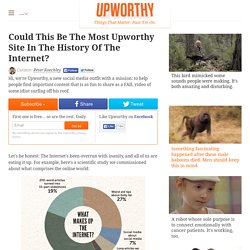 Could This Be The Most Upworthy Site In The History Of The Internet?
Let's be honest: The Internet's been overrun with inanity, and all of us are eating it up. For example, here's a scientific study we commissioned about what comprises the online world: We can't change all that.
magpie nest
Tags:bodies, children/youth, consumption/consumerism, discourse/language, gender, inequality, marketing/brands, media, political economy, sex/sexuality, social construction, violence, feminism, media literacy, representation, self-objectification, sexism, sexual objectification, stereotypes, symbolic annihilation, 06 to 10 mins, 61+ minsYear: 2011Length: 90:00, 8:52Access:no online access, Vimeo preview Summary: Jennifer Siebel Newsom directs this documentary, and following in the steps of the Killing Us Softly films, it draws attention to the very problematic ways women and girls are represented in contemporary media. To tell the story, Newsom weaves together a number of interviews from an array of experts and activists, including Erika Falk, Jennifer Pozner, Jean Kilbourne, Condoleezza Rice, Nancy Pelosi, Cory Booker, Katie Couric, Rachel Maddow, Margaret Cho, Rosario Dawson and Gloria Steinem.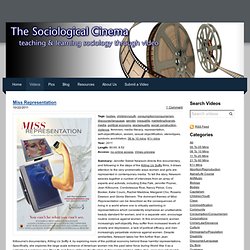 Miss Representation - The Sociological Cinema
About Us
COMMENTARY is America's premier monthly magazine of opinion and a pivotal voice in American intellectual life. Since its inception in 1945, and increasingly after it emerged as the flagship of neoconservatism in the 1970s, the magazine has been consistently engaged with several large, interrelated questions: the fate of democracy and of democratic ideas in a world threatened by totalitarian ideologies; the state of American and Western security; the future of the Jews, Judaism, and Jewish culture in Israel, the United States, and around the world; and the preservation of high culture in an age of political correctness and the collapse of critical standards. Many of COMMENTARY's articles have been controversial, and more than a few have been hugely influential, touchstones for debate and discussion in universities, among policy analysts in and out of government, within the ranks of professionals and community activists of all kinds, and in circles of serious thought worldwide.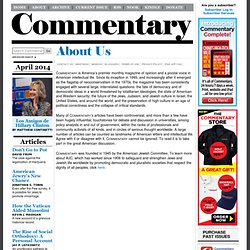 Dude, This Diplomat's No Stiff
[Editor's note: In celebration of the holidays, we're spending the next two Tuesdays by counting down the top 12 Flavorwire features of 2012.
Extremely Silly Photos of Extremely Serious Writers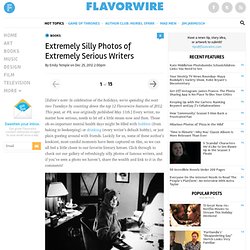 - Rimel Neffati
Brain Forest | Connectome: How the Brain's Wiring Makes Us Who We Are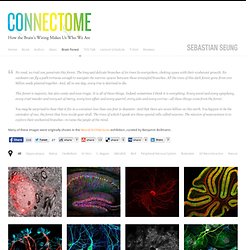 No road, no trail can penetrate this forest. The long and delicate branches of its trees lie everywhere, choking space with their exuberant growth. No sunbeam can fly a path tortuous enough to navigate the narrow spaces between these entangled branches. All the trees of this dark forest grew from 100 billion seeds planted together.
Rape as Prime Time Comedy - The Sociological Cinema
Rape humor on prime time television _Tags:discourse/language, gender, media, violence, comedy, media literacy, rape culture, symbolic violence, 00 to 05 minsYear: 2012Length: 1:14Access:nymag.com Summary: Before watching this remix of the 2012 television season's many rape jokes, take a minute to view an excerpt from the documentary Vietnam: American Holocaust, where American soldiers testify that they raped civilian women during the Vietnam War.