TENDÉNCIAS
the anchor
cool room
Lady Desidia
No me pises que llevo Manolos
luchyanomiras
Piter
~Shopaholic~ blog de moda
ILLUSION
Estilosas: Elena Perminova Elena Perminova It girl, estilista y modelo Rusa +Elena Instagram: Lenaperminova Estilosas: Natalie Joos Natalie Joos es una consultora de modas y agente de casting belga. Además, es fotógrafa de su blog Tales of Endearment donde comparte y documenta las historias de sus amigos, moda y estilos de vida.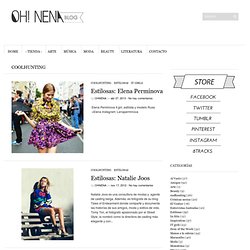 coolhunting | OH!NENA blog
Looklet
Lindex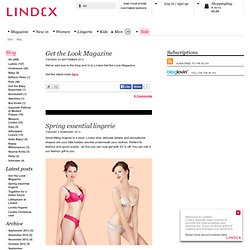 Name: Camilla Lundsten Lives: Together with her partner Stefan and their son Tinin, 1, 5 years old About: Camilla runs her own brand Littlephant which is sold in several countries around the world. She designs all the products, writes and makes books with the character Littlephant and his friends.
Moda y tendencias en The Healthy Ghost
Di por Dior
Mr. & Mrs. Calamity Cool
snob
COMPARTE MI MODA: La moda femenina desde el punto de vista de las usuarias...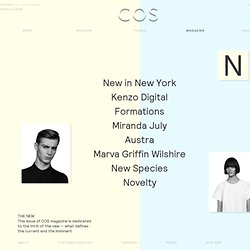 In preparation for his solo show 'Draw The Line' at The Power Plant in Toronto, Ontario, the artist Jimmy Robert is photographed here rehearsing a piece that he'll do at the esteemed Canadian art institution in June. The performance is loosely based on the work of the 1970s American feminist artist Carolee Schneemann and on her thoughts on body politics. By acting out his movements on a sheet of white paper, Jimmy imagines the body to become words, where each movement suggests the act of writing. The actual performance of the piece will occur once in Toronto, but the paper sheet will remain on display until 2 September 2013, the creases forming a mysterious record of the piece.
Magazine
galletasdeante
Smash! Blog
Diary of The Coveteur
Excuse our eye rolls, but reserving the New Year for finally organizing our lives or simply making a change for the better is far from ideal. We appreciate the symbolism of a fresh year and new start, but all too often, those plans don't pan out.
Get Organized in 2012 - How To Get Organized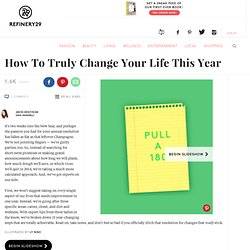 The Fashion Social Network | StyledOn. Be Inspired.
The Journal - Massimo Dutti
bolsos | Web de la Moda
It happens all the time: You pick out an amazing frock, start fantasizing about where and when you'll wear it, and then, just as you're trying it on, you suddenly realize the darn thing looked much better on the hanger. We get it. It's happend to us (a lot).
Photo 5- 15 Perfect Spring Dresses For 15 Body Types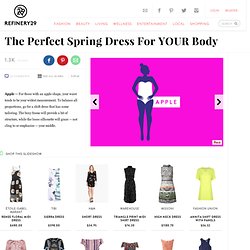 Loft of Beauty
Chic o Chuc - Blog sobre moda y accesorios originales o curiosos... en el que tu decides lo que es Chic y lo que no!
Anita Patata Frita Vol.3
Pamflet.co.uk
Oh my look book!
Archives: © Copyright 2006 - 2014 Tomandlorenzo LLC.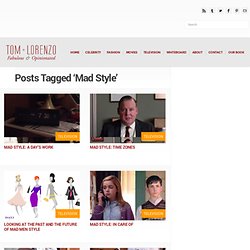 Mad Style
My New York Top Shop is…DRUM ROLL PLEASE…OAK! |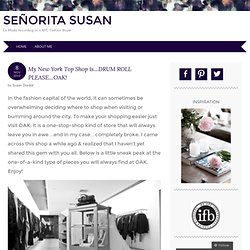 My New York Top Shop is…DRUM ROLL PLEASE…OAK! In the fashion capital of the world, it can sometimes be overwhelming deciding where to shop when visiting or bumming around the city. To make your shopping easier just visit OAK; it is a one-stop-shop kind of store that will always leave you in awe…and in my case…completely broke.
FASHION | itfashion.com
itfashion.com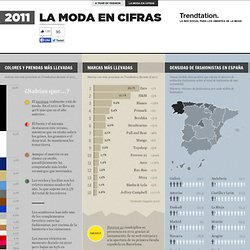 2011: La moda en cifras
Nueva medida demográfica que calcula el número de población fashionista sobre el total de habitantes de una comunidad. Muestra: Número de fashionistas por cada millón de habitantes. Galicia 39,7 Asturias 30,4 Euskadi 22,9 Madrid 22 Navarra 18,8 Cantabria 16,9 Canarias 16,1 Valencia 14,5 Extremadura 13,6 Andalucía 12,7 Castilla y León 12,5 La Rioja 12,4 Murcia 12,3 Aragón 11,1 Catalunya 10,9 Castilla La Mancha 9,5 Baleares 7,2
OlieteWorld
Cazado por la tendencia
Moda | Vanidad.