LEADERSHIP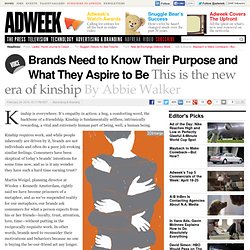 Brands Need to Know Their Purpose and What They Aspire to Be
Kinship is everywhere. It's empathy in action: a hug, a comforting word, the backbone of a friendship.
42 Tips for Masterful PresentationsLeader's Beacon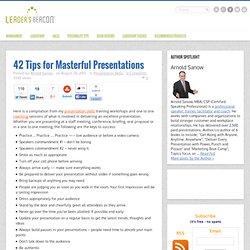 Here is a compilation from my presentation skills training workshops and one to one coaching sessions of what is involved in delivering an excellent presentation.
Is Your Brand's Reputation Safe In Millennial Hands?
Ten Presentation Techniques You Can (And Should) Copy From Apple's WWDC Keynote
8 Timeless Business Principles
Want trendy, flavor-of-the-month management ideas?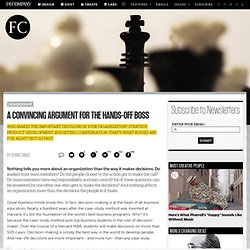 Nothing tells you more about an organization than the way it makes decisions.
A Convincing Argument For The Hands-Off Boss
Turn Bad Days Into Good Ones: 6 Ways | Inc. 5000
Why Working From Home Is The Worst Of Both Worlds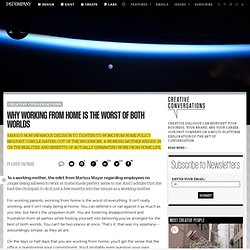 As a working mother, the edict from Marissa Mayer regarding employees no longer being allowed to work at home made perfect sense to me.
7 Tenets of a Stress-free Leader | Inc. 5000
How to Drive Consensus: 7 Secrets
While it's great to have a business blog, it's easy to fall into the trap of posting whatever you can in order to stick to your blogging "schedule."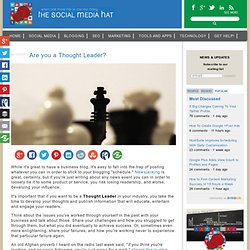 Are you a Thought Leader?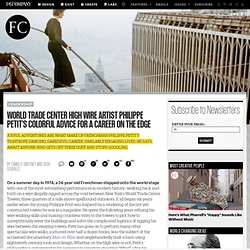 World Trade Center High Wire Artist Philippe Petit's Colorful Advice For A Career On The Edge
On a summer day in 1974, a 24-year-old Frenchman stepped onto the world stage with one of the most astonishing performances in modern history--walking back and forth on a wire illegally rigged across the void between New York's World Trade Center Towers, three quarters of a mile above spellbound onlookers. It all began six years earlier when the young Philippe Petit was inspired by a rendering of the not-yet-constructed towers he saw in a magazine.
Stan Richards's Unique Management Style
6 Things You Need to Know About Leading a Meeting
Image source by Hana Muchova' Many CEO's are told what they want to hear, rather than what team members really think.
I Don't Butt Heads with the CEO of Zappos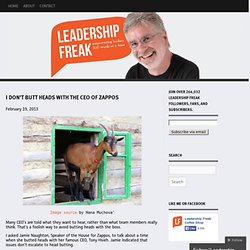 8 Ways to Be a Courageous Leader
10 Presidents' Day Leadership Lessons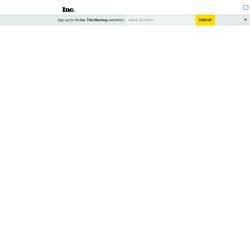 You're automatically signed up for the Inc.
Most Effective Persuasion Technique You've Never Heard Of
Innovative Leadership: Best Leaders Think Like 5-Year Olds
"One does not begin with answers," the legendary business consultant Peter Drucker once said. "One begins by asking, 'What are our questions?'" The notion that questions may at times be more valuable to a business than answers is counterintuitive.
The 5 Questions Every Company Should Ask Itself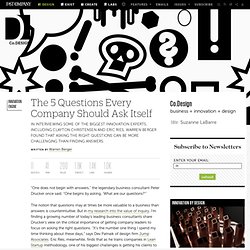 Leadership & Managing | 10 Ways Any Leader Can Step It Up Today
Words are powerful.
Why Tweaking Your Career Vocabulary Can Radically Improve Your Life
Quick: Define Leadership
Why Smart Leaders Don't Clone Themselves
Be a More Gracious Leader: 12 Ways | Inc. 5000
9 Tips for Shorter, Better Meetings
The 5 Characteristics Of Great Leaders
There are essentially five characteristics of great leaders.
Time Management Advice: Best Way to Spend Your Day?
Why You're Not A Leader
12 Essential Traits Of Successful Start-up Leaders
How To Run Your Meetings Like Apple and Google
Steve Jobs's 10 Best Quotes for Advertising Agencies
Employee Retention: Surprising Way to Get Them to Stay
8 Public Speaking Lessons from 57 Inaugural Speeches: The Good, The Bad, and The Ugly
Great Leadership; How Martin Luther King, Jr. Wrestled With Anger
Think For Yourself--Best Leadership Tip Ever
One Leadership Skill That Will Set You Apart
How to Develop Young Leaders
Leadership Advice: Ask Employees, 'What Do You Think?'
Steve Jobs: 10 Presentation Tactics for Ad Agency New Business
One Huge Step Every Great Boss Takes
The World's Most Powerful People
What Your Team Really Hates About Your Leadership Style
Put LinkedIn to Work For You: 7 Ways | Inc. 5000
13 Little Things You're Doing to Sabotage Your Success
Great Leaders Aren't Just Role Models
Top five questions to ask during an interview
The Ten Principles of Pain
How To Make Your Employees Happier
10 Easy Ways to Get More Done
Five Presentation Mistakes Everyone Makes - Nancy Duarte
6 Ways to Enhance Your Credibility
12 Most Thrilling "T" Trademarks of Great Leaders
Communication Goals and Resources for 2013
What Will Your Leadership Obituary Be?
Top 10 tips for making lists
Are You a Fearless Leader? 3 Questions
Top 10 Traits of an Exceptional Boss
12 Great Motivational Quotes for 2013
Twelve Time Management Habits to Master in 2013
The future according to Google's Larry Page
Ten Resolutions The Most Successful People Make And Then Keep
8 Easy Ways to Be Innovative
Top Posts of 2012: 9 Reasons He's a Better Leader Than I Am
The Secret to Getting Your New Job in the New Year
6 Ways Business Could Change in 2013
The Most Misunderstood Aspect Of Great Leadership
6 Habits of Remarkably Likeable People
5 Smart Ways to Use Holiday Downtime | Inc. 5000
6 Habits of True Strategic Thinkers
9 Keys to Business & Career Success
A Leader's Christmas List
8 Opportunities to Lead in 2013
The Visionary's Dilemma
The Power of Praise
4 Ways to Be a Leader Who Matters
5 Reasons Leadership Falls Flat
Advice From a Prominent Start-Up CEO: Try to Fail
5 Leadership Fads to Ignore
How to Craft the Perfect Presentation
5 Biggest Leadership Lessons From 2012
Young People, Stop Just Texting Me and Give Me a Call Once in a While PLZ! Part Deux
The Return of Writing
Lead So Others Will Follow: 6 Tips
5 Essential Leadership Lessons From Tim Cook
10 Things Bosses Wish They Could Tell Employees
Leadership Practices to Stop Today
How Great Leaders Make Their Own Luck - Video
15 Phrases That Build Bridges Between People
Motivating Employees: 4 Words With Big Impact
Great Leaders Know When To Stand Still
Guide to Effective Delegating (For Control Freaks) | Inc. 5000
6 Signs You're Not Fit to Lead
Zig Ziglar: 10 Quotes That Can Change Your Life
A Great Leader's Year-end Checklist
How to Criticize Employees: 6 Rules
What Great Leaders Have That Good Leaders Don't
Why Fighting For Our Ideas Makes Them Better
6 Poker Lessons For The Executive Table
How To Ask--And Listen--Like You Mean It
Extreme Leadership Lessons From Astronaut, Antarctic Doctor Scott Parazynski
How To Move Past The "Everything's Been Done" Trap And Find Your Next Great Idea
The 20 most-watched TED Talks as of August 2012
New Shoppable YouTube Videos Are The Walkmans Of Advertising