Hobby Heaven
Get flash to fully experience Pearltrees
"The School of Conjuration governs raising the dead or summoning creatures from the Realm(s) of Oblivion. This skill makes it easier to cast these spells as well as Soul Trap and bindings." ― The Elder Scrolls V: Skyrim "Can you conjure me up a sweet roll?" ― Guard Conjuration is a skill in The Elder Scrolls V: Skyrim and is one of the six skills that fall under the Path of Sorcery or the Mage constellation of skills.
Traditional multi-player card games for which rules are available from this site are listed below in alphabetical order, together with the number of players and the design and number of cards or tiles needed for each - see further explanation at the end of the page. If you are searching for games for a particular number of players you may prefer to use the Index of Games by Number of Players . Please note: There are separate pages for: Commercial games (games requiring a special pack of cards produced by a single manufacturer) Solitaire / Patience games (games for one player) Invented games (newly created games and variations contributed by readers) These types of game are generally not listed in the index below.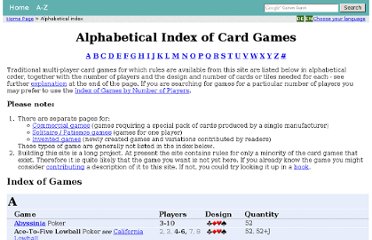 A paraprosdokian is a figure of speech in which the latter part of a sentence or phrase is surprising or unexpected in a way that causes the reader or listener to re-frame or re-interpret the first part. It is frequently used for humorous or dramatic effect. For this reason, it is extremely popular among comedians and satirists. I asked God for a bike, but I know God doesn't work that way. So I stole a bike and asked for forgiveness.
Want to learn how everything works in Photoshop? We'll help you make your photos better, draw vector graphics, and design a web site. Learn the Basics of Photoshop in Under 25 Minutes - To get started with Photoshop, you need to know what everything does.