Arte
Virtual Piano : The original app | Virtual Keyboard | Online Music | Piano Game | CMAGICS. DeviantART. Neonflames. aM laboratory. Sound Matrix.
The Sound Matrix was a clever bit of flash that was mailed to me some time back.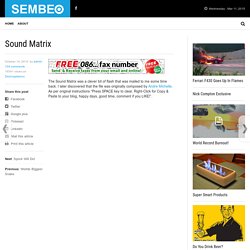 I later discovered that the file was originally composed by Andre Michelle. As per original instructions "Press SPACE key to clear. INCREDIBOX. IPollock. Picassohead.
---