Bad-Ass Quotes
Rollins-pic-0.jpg (499×636) They Did Not Give Up. You have reached a web page that was created by Professor Frank Pajares.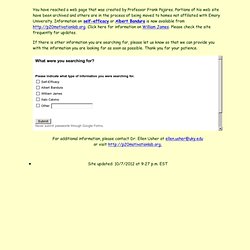 Portions of his web site have been archived and others are in the process of being moved to homes not affiliated with Emory University. Information on self-efficacy or Albert Bandura is now available from Click here for information on William James. 40 Belief-Shaking Remarks From a Ruthless Nonconformist | Raptitude.com. If there's one thing Friedrich Nietzsche did well, it's obliterate feel-good beliefs people have about themselves.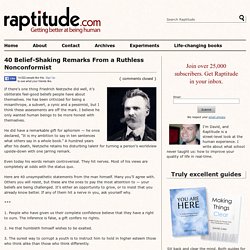 He has been criticized for being a misanthrope, a subvert, a cynic and a pessimist, but I think these assessments are off the mark. I believe he only wanted human beings to be more honest with themselves. He did have a remarkable gift for aphorism — he once declared, "It is my ambition to say in ten sentences what others say in a whole book." A hundred years after his death, Nietzsche retains his disturbing talent for turning a person's worldview upside-down with one jarring remark. 1286765174535.png (PNG Image, 700x1000 pixels) Don Lattin: Harvard Psychedelic Club: 1956 Footage Of Housewife's Acid Trip. Here's some rare footage of an experimental LSD session that I came across doing research for my next book, a group biography of British writer Aldous Huxley, philosopher Gerald Heard, and Bill Wilson, the co-founder of Alcoholics Anonymous.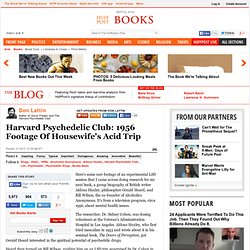 It's from a television program, circa 1956, about mental health issues. The researcher, Dr. When-work-feels-overwhelming.jpg (JPEG Image, 468x312 pixels) Philosophy / Cool Pictures / cSlacker.com. I am in a constant battle with my mind. i g. I am in a constant battle with my mind. i go from thinking that i am special for being "intelligent" to realizing that being aware of my being special is, in fact a sign that i am just seeking attention and simply something i like thinking about myself. then i realize that being aware of that fact counter-acts itself, and i am stuck in an endless paradox of myself. i have not yet learned how to stop and just say "it doesn't matter"
Heavy Quotes With Pretty Pictures. Code of Conduct. I interviewed a woman who is terminally ill. "So," I tried to delicately ask, "What is it like to wake up every morning and know that you are dying?" "Well," she responded, "What is it like to wake up every morning and pretend that. It is kind of a rude question.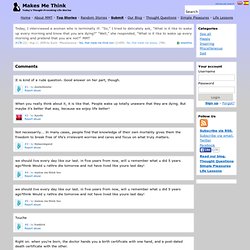 Good answer on her part, though. When you really think about it, it is like that. People wake up totally unaware that they are dying. But maybe it's better that way, because we enjoy life better! Best Quotes of All Time. Photo Credit: BigStockPhoto.com It's been three years since we shared our original list of some of the best quotes of all time, and we felt it was a good time for an update.
We've added another 25 quotes for you. But these aren't just any quotes. These are quotes designed to inspire. They're motivational quotes that will hopefully get you thinking about your life, your work, or your dreams and how you can make these things better. Words of wisdom | Decadent Lifestyle.
---