US
The White Light is the Brilliance of Creative Thought The White Light Group is a nonprofit humanitarian NGO based on a global network of like minds and hearts working together to make a difference in the world and give back to life. We consider ourselves stewards and guardians of humanity.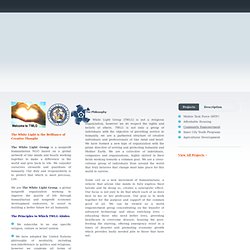 The White Light Group
US Uncut
US Uncut is a grassroots movement taking direct action against corporate tax cheats and unnecessary and unfair public service cuts across the U.S. Washington's proposed budget for the coming year sends a clear message: The wrath of budget cuts will fall upon the shoulders of hard-working Americans. That's unacceptable.
Democracy Council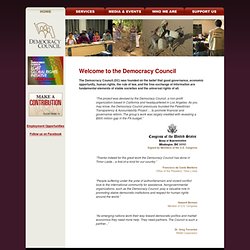 The Democracy Council (DC) was founded on the belief that good governance, economic opportunity, human rights, the rule of law, and the free exchange of information are fundamental elements of stable societies and the universal rights of all. "The project was devised by the Democracy Council, a non-profit organization based in California and headquartered in Los Angeles. As you may know, the Democracy Council previously founded the Palestinian Transparency & Accountability Project … to promote financial and governance reform. The group's work was largely credited with revealing a $900 million gap in the PA budget."
The Earth Institute, Columbia University
Pursue Your Passion: Get an Education in Sustainability Coalition Launches 'UPKNYC: The Campaign for Universal Pre-K and After-School' MS Student Sails into Sustainability Ancient Rocks, Modern Problem Q&A with Development Practitioner Ignacio Urrutia Jan21