ALA Annual Conference 2012
ALA Annual: Walking the Exhibit Hall Like a Pro. Have you registered for ALA Annual Conference in Anaheim yet?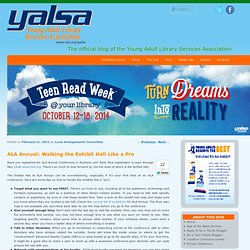 Early Bird registration is open through May 13 at alaannual.org. There's so much to look forward to, not the least of which is the Exhibit Hall. The Exhibit Hall at ALA Annual can be overwhelming, especially if it's your first time at an ALA conference. Three impressive teens highlight stunning accomplishments at ALA Annual Conference.
ASCLA Blog. ASCLA will host three half-day workshops in Anaheim covering library marketing and development, public library services to the visually and physically impaired and public library partnerships with jails and prisons.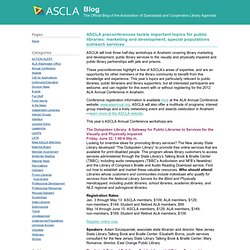 These preconferences highlight a few of ASCLA's areas of expertise, and are an opportunity for other members of the library community to benefit from this knowledge and experience. This year's topics are particularly relevant to public libraries, public librarians and library supporters, but all interested participants are welcome, and can register for this event with or without registering for the 2012 ALA Annual Conference in Anaheim. Conference registration information is available here at the ALA Annual Conference website, www.alaannual.org.
Carmen Agra Deedy to speak at AASL Awards Luncheon during the ALA 2012 Annual Conference. Programming Librarian | Learn How to Build Community Connections through Civic Reflection. The Young Adult Library Services Association (YALSA), a division of the American Library Association (ALA) has announced the official 2013 Teens' Top Ten titles.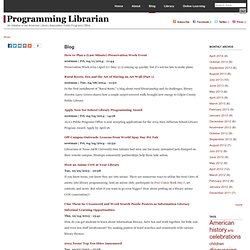 Voting for the 2013 Teens' Top Ten took place from August 15 through Teen Read Week, October 13–19, with more than 32,000 votes cast. This year, there were twenty-eight nominees that competed for the "top ten" list. The official 2013 Teens' Top Ten titles can be found below and are also featured in a video announcement at the Teens' Top Ten website. Preliminary schedule for Annual Conference 2012 (Anaheim) is now available. ALA Poster Sessions. ALA Annual 2012: Anaheim, CA June 21-26 2012. ACRL Research Forum at ALA Annual 2012. The ACRL Research Coordinating Committee is pleased to sponsor a new forum to give those doing research in academic library contexts an opportunity to share their work with a national audience at the upcoming ALA Annual Conference June 21-26, 2012, in Anaheim.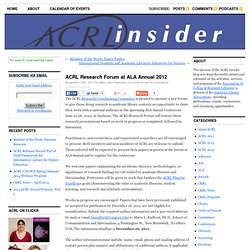 The ACRL Research Forum will feature three research presentations based on work in progress or completed, followed by discussion. Practitioners, new researchers, and experienced researchers are all encouraged to present. Both members and non-members of ACRL are welcome to submit. Those selected will be expected to present their papers in person at the forum at ALA Annual and to register for the conference.
We welcome papers emphasizing the problems, theories, methodologies, or significance of research findings for LIS related to academic libraries and librarianship. NMRT Notes » Annual Conference Professional Development Attendance Award. We are excited to announce the NMRT Annual Conference Professional Development Attendance Award!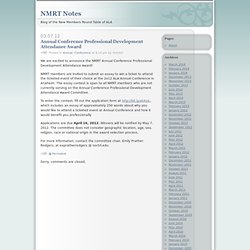 NMRT members are invited to submit an essay to win a ticket to attend the ticketed event of their choice at the 2o12 ALA Annual Conference in Anaheim. The essay contest is open to all NMRT members who are not currently serving on the Annual Conference Professional Development Attendance Award Committee. To enter the contest, fill out the application form at which includes an essay of approximately 250 words about why you would like to attend a ticketed event at Annual Conference and how it would benefit you professionally.
EBSCO offers seven scholarships to librarians attending 2012 ALA Annual Conference.
---