ALA Annual Conference 2012
Get flash to fully experience Pearltrees
For Immediate Release Tue, 02/28/2012 - 16:44 Contact: Amy R McGuigan Conference Services (cs) CHICAGO – Three courageous and creative young adults who have already changed things for the better within their communities, cultures and societies make for a unique Auditorium Speaker session at 2012 ALA Annual Conference.The teens will speak from 1:30 - 2:30 p.m. on Saturday, June 23 at the Convention Center.
ASCLA will host three half-day workshops in Anaheim covering library marketing and development, public library services to the visually and physically impaired and public library partnerships with jails and prisons.
For Immediate Release Tue, 02/28/2012 - 12:44
Angela Thullen Baker | February 28, 2012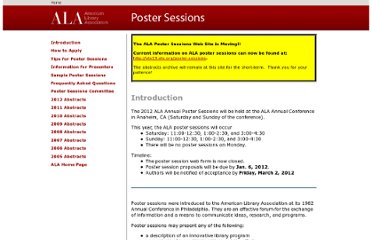 The 2012 ALA Annual Poster Sessions will be held at the ALA Annual Conference in Anaheim, CA (Saturday and Sunday of the conference).
The ACRL Research Coordinating Committee is pleased to sponsor a new forum to give those doing research in academic library contexts an opportunity to share their work with a national audience at the upcoming ALA Annual Conference June 21-26, 2012, in Anaheim. The ACRL Research Forum will feature three research presentations based on work in progress or completed, followed by discussion.
The ALA Learning Round Table invites you to Disney Institute "Disney's Approach to Quality Service" on Friday, June 22nd, 2012
We are excited to announce the NMRT Annual Conference Professional Development Attendance Award!
For Immediate Release Thu, 11/03/2011 - 15:54
Skip to main content