Social Media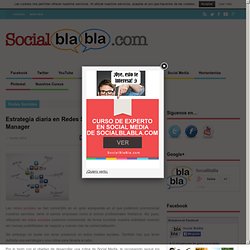 Las redes sociales se han convertido en un gran escaparate en el que podemos promocionar nuestros servicios, tanto si somos empresas como si somos profesionales freelance. Así pues, utilizando las redes sociales podemos incrementar de forma increíble nuestra visibilidad creando así nuevas posibilidades de negocio y nuevas vías de comercialización. Sin embargo no basta con tener presencia en estos medios sociales. También hay que tener definida una estrategia y una rutina para llevarla a cabo. Por lo tanto con el objetivo de desarrollar una rutina de Social Media, te recomiendo seguir los siguientes pasos: Recopila fuentes
Estrategia diaria en Redes Sociales de un Community Manager
Thoora
Rara es la presentación de medios sociales en la que, al terminar, alguien del público no hace la pregunta… "Si pero … ¿a todo esto cómo le medimos el ROI?" El ponente responde según sus tablas, conocimiento o su grado de dospuntocerismo talibán . Si este último grado es alto, tienden a escaparse con evasivas lanzando frases lapidarias como "¿Estas casado?
El ROI es sólo una métrica
Google+ se ha convertido en una de las redes sociales de mayor crecimiento en poco tiempo pero probablemente lo que más llame la atención, no sean sus 10 millones de usuarios, sino más bien la rivalidad creciente que tiene con Facebook, a la que parece haberle copiado de manera muy exacta la manera de funcionar. Dado que todos los días nos encontramos con más y más novedades de Google Plus, y que tenemos que admitir que el tema a mí particularmente me está terminando por aburrir, decidí realizar una recopilación de 22 aplicaciones, plugins y extensiones para Google+, que permiten sacarle aún más jugo a la nueva red social de Google. Hay que admitir que hay material para todos los gustos, desde el microblogger deseoso de compartir información y customizar su espacio social reducido, hasta el blogger de antaño que necesita comenzar a promocionar en su blog su nuevo perfil.
22 aplicaciones, plugins y extensiones para Google+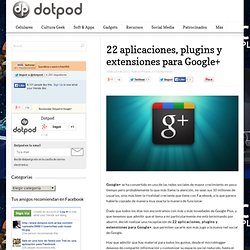 COMMS corner: The seven most useful new social media tools of 2011 (so far)
The social side of the internet The internet is now deeply embedded in group and organizational life in America. A new national survey by the Pew Research Center's Internet & American Life Project has found that 75% of all American adults are active in some kind of voluntary group or organization and internet users are more likely than others to be active: 80% of internet users participate in groups, compared with 56% of non-internet users. And social media users are even more likely to be active: 82% of social network users and 85% of Twitter users are group participants. The overall impact of the internet on group activities and accomplishments In this survey, Pew Internet asked about 27 different kinds of groups and found great diversity in group membership and participation using traditional and new technologies.
The social side of the internet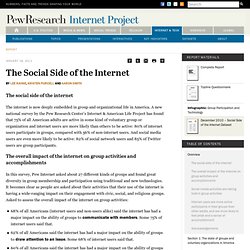 Facebook profiles are like belly buttons: Everybody's got one. Perhaps that statement's still a bit of an exaggeration, but by the numbers, we (that is, Internet users around the globe) are becoming more obsessed with Facebook by the day. One out of every 13 Earthlings and three out of four Americans is on Facebook, and one out of 26 signs into Facebook on a daily basis. We could rattle off stats like that until the cows come home, but instead, we'd like to show you this fascinating infographic from SocialHype and OnlineSchools.org. Here, in a visual nutshell, are some highlights about Facebook usage, 2010 trends, adoption numbers and a great deal more.