Gamify
Fun is the Future: Mastering Gamification. What is Gamification, Really? Michael Wu, Ph.D. is Lithium's Principal Scientist of Analytics, digging into the complex dynamics of social interaction and group behavior in online communities and social networks.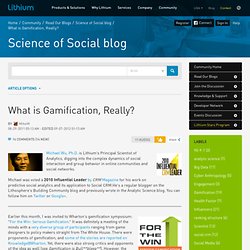 Michael was voted a 2010 Influential Leader by CRM Magazine for his work on predictive social analytics and its application to Social CRM.He's a regular blogger on the Lithosphere's Building Community blog and previously wrote in the Analytic Science blog. You can follow him on Twitter or Google+. The organizers of the symposium, Prof. Com aplicar la mecànica del joc a les notícies: 'gamification' - [Escacc]
El VJ Movemenet, una organització holandesa sense ànim de lucre en què col·laboren més de 150 periodistes professionals de vídeo i dibuixants d'un centenar de països, planteja oferir un servei nou els propers mesos, el News Game.
Juntament amb la professora Nora Paul de l'Escola de Periodisme i comunicació de masses a la Universitat de Minnesota, VJ Movement ha organitzat recentment una conferència sobre news gaming en la qual periodistes, desenvolupadors de jocs i acadèmics dels EUA, el Canadà, França, Dinamarca i Holanda en van parlar. La gamification té diverses interpretacions. Per a Amy Jo Kim, especialista de comunitats en línia i confundador de l'empresa de jocs Shuffle brain, la gamification es resumeix en cinc característiques: 1. Col·leccionar.
---