Clearinghouses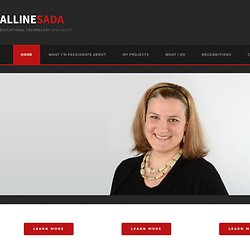 Directory of Educational Resources on the Web
APPitic.com is a directory of apps for education by Apple Distinguished Educators (ADEs) to help you transform teaching and learning. These apps have been tested in a variety of different grade levels, instructional strategies and classroom settings. A monthly webcast celebrates innovative educators as they showcase their expertise in real-world environments. Expert hand-selected resources are shared on the resources pages with links to curated content and materials on iTunes U. APPitic.com was born at the end of 2012 as a translator for App Store descriptions for non-English speaking countries.
Get your Wikispaces Classroom now: the easiest way to manage your class. guest Join | Help | Sign In cooltoolsforschools Home guest| Join | Help | Sign In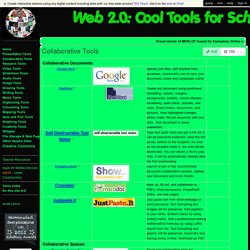 Numbers 10 Commandments 13 Colonies 100 Days of School 5W's & H
Thousands of Free Powerpoints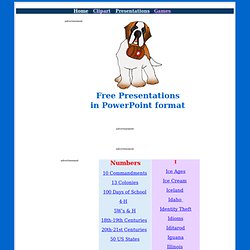 RPS Monthly Meetings - April12.Principals.Elem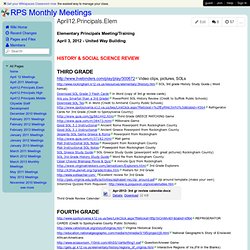 Elementary Principals Meeting/Training April 3, 2012 - United Way Building http://www.livebinders.com/play/play/300672 Video clips, pictures, SOLs http://www.rockingham.k12.va.us/resources/elementary/3history.htm SOL 3rd grade History Study Guide ( Word format)Download SOL Grade 3 Flash Cards in Word (copy of 3rd gr review cards)Are you Smarter than a 3rd Grader PowerPoint SOL History Review (Credit to Suffolk Public Schools)Download SOL Test in Word (Credit to Amherst County Public Schools)http://www.spotsylvania.k12.va.us/bes/LinkClick.aspx?
From Librarianchick Books/Audio books