Jewelry
DIY Macrame Bracelet. Growing up by the beach in Southern California, the ability to knot a macrame bracelet was practically a right of passage.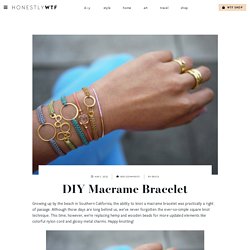 Although those days are long behind us, we've never forgotten the ever-so-simple square knot technique. This time, however, we're replacing hemp and wooden beads for more updated elements like colorful nylon cord and glossy metal charms. Happy knotting! You'll need: Start by cutting the knotting cord into two 30 inch, two 20 inch and one 10 inch lengths. DIY Sliding Knot Bracelet. After visiting the Mediterranean twice this past year, I've come to embrace the ubiquity that is the evil eye symbol and have since integrated it into the jewelry repertoire.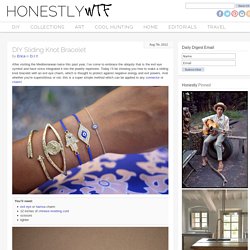 Today I'll be showing you how to make a sliding knot bracelet with an evil eye charm, which is thought to protect against negative energy and evil powers. And whether you're superstitious or not, this is a super simple method which can be applied to any connector or charm! You'll need: Thread 4 inches of cord through one side of the charm. DIY Heart Friendship Bracelet.
As the month of love approaches, we thought we'd combine friendship and hearts into one Valentine's Day themed tutorial: a heart patterned friendship bracelet!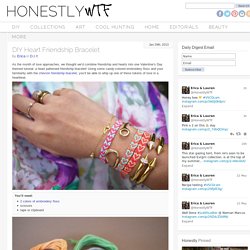 Using some candy-colored embroidery floss and your familiarity with the chevron friendship bracelet, you'll be able to whip up one of these tokens of love in a heartbeat. You'll need:2 colors of embroidery flossscissorstape or clipboard Creating a heart pattern involves just a simple modification to the chevron patterned friendship bracelet. DIY Woven Charm Bracelet. You might remember our woven chain bracelet tutorial, one of our favorite DIYs to date.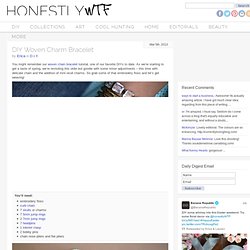 As we're starting to get a taste of spring, we're revisiting this oldie but goodie with some minor adjustments – this time with delicate chain and the addition of mini skull charms. So grab some of that embroidery floss and let's get weaving! DIY Rhinestone Sliding Knot Bracelet. I suppose we can call this week's tutorial somewhat of a refresher course on how to master the perfect sliding knot.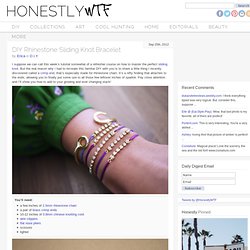 But the real reason why I had to recreate this familiar DIY with you is to share a little thing I recently discovered called a crimp end, that's especially made for rhinestone chain. It's a nifty finding that attaches to the ends, allowing you to finally put some use to all those few leftover inches of sparkle. DIY Macrame Rhinestone Bracelet.
I've got a problem.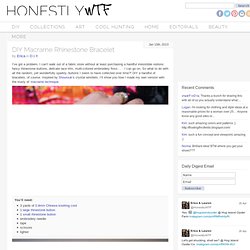 I can't walk out of a fabric store without at least purchasing a handful irresistible notions: fancy rhinestone buttons, delicate lace trim, multi-colored embroidery floss . . . I can go on. So what to do with all the random, yet wonderfully sparkly, buttons I seem to have collected over time?! DIY a handful of bracelets, of course. Rings & Tings | Online fashion store | Shop the latest trends.
Pree Brulee - Welcome. DIY Friendship Bracelet. For several months now, we've been receiving emails requesting a friendship bracelet DIY.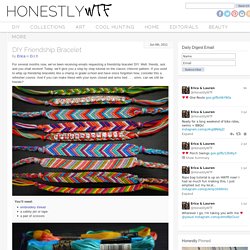 Well, friends, ask and you shall receive! Today, we'll give you a step by step tutorial on the classic chevron pattern. If you used to whip up friendship bracelets like a champ in grade school and have since forgotten how, consider this a refresher course. DIY Wrap Bracelet. You should all know by now that we are all about stacking bracelets on our wrists.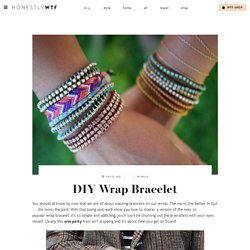 The more, the better. In fact . . . the most, the best! With that being said, we'll show you how to master a version of the ever so popular wrap bracelet. It's so simple and addicting, you'll soon be churning out these wristlets with your eyes closed. DIY Braided Bead Bracelet. It's been awhile since our last bracelet DIY.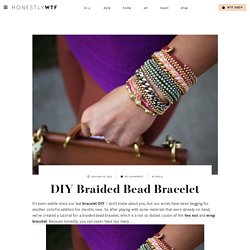 I don't know about you, but our wrists have been begging for another colorful addition for months now. So after playing with some materials that were already on hand, we've created a tutorial for a braided bead bracelet, which is a not so distant cousin of the hex nut and wrap bracelet. Because honestly, you can never have too many . . . You'll need: DIY Embellished Friendship Bracelets. The weather is warming up and my wrists are feeling rather lonely and bare after hiding under long sleeves all season long.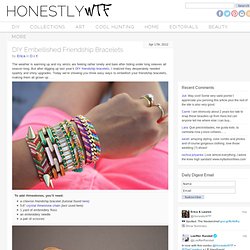 But after digging up last year's DIY friendship bracelets, I realized they desperately needed sparkly and shiny upgrades. Today we're showing you three easy ways to embellish your friendship bracelets, making them all grown up . . . To add rhinestones, you'll need:a chevron friendship bracelet (tutorial found here)5-6" crystal rhinestone chain (last used here)1 yard of embroidery flossan embroidery needlea pair of scissors Thread the needle with embroidery floss and tie the end into a double knot. Push the needle through the back of bracelet.
---