ActionScript 3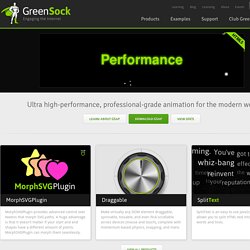 You may use the code at no charge in commercial or non-commercial apps, web sites, games, components, and other software as long as end users are not charged a fee of any kind to use your product or gain access to any part of it. If your client pays you a one-time fee to create the site/product, that's perfectly fine and qualifies under the "no charge" license. If end users are charged a usage/access/license fee, please sign up for a "Business Green" Club GreenSock membership which comes with a comprehensive commercial license. See http://www.greensock.com/club/ for details.
ActionScript 3 « Página 15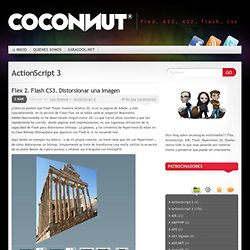 ¿Cómo es posible que Flash Player muestre objetos 3D, si en la página de Adobe, y más concretamente, en la sección de Flash/Flex no se habla nada al respecto? Realmente Adobe/Macromedia no ha desarrollado ningún motor 3D. Lo que Carlos Ulloa concibió y que tan rápidamente ha crecido, dando páginas web impresionantes, es una ingeniosa utilización de la capacidad de Flash para distorsionar bitmaps.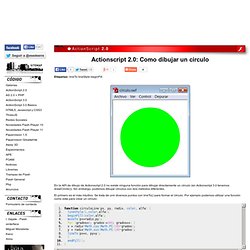 Flash: Ejemplos y tutoriales de Actionscript 2.0Flash: Ejemplos y tutoriales de Actionscript 2.0 din mico y PHP
En la API de dibujo de Actionscript 2.0 no existe ninguna función para dibujar directamente un círculo (en Actionscript 3.0 tenemos drawCircle()). Sin embargo, podemos dibujar círculos con dos métodos diferentes. El primero es el más intuitivo. Se trata de unir diversos puntos con lineTo() para formar el círculo. Por ejemplo podemos utilizar una función como esta para crear un círculo:
Controlar teclas pulsadas en AS2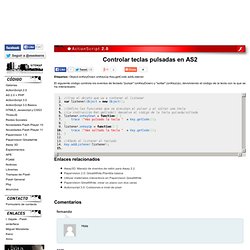 Etiquetas: Object onKeyDown onKeyUp Key.getCode addListener El siguiente código controla los eventos de teclado "pulsar" (onKeyDown) y "soltar" (onKeyUp), devolviendo el código de la tecla con la que se ha interactuado. //Creo el objeto que va a contener el listenervar listener:Object = new Object();//Defino las funciones que se ejecutan al pulsar y al soltar una tecla//La instrucción Ket.getCode() devuelve el código de la tecla pulsada/soltadalistener.onKeyDown = function() { trace ("Has pulsado la tecla " + Key.getCode());}listener.onKeyUp = function() { trace ("Has soltado la tecla " + Key.getCode());}//Añado el listener al tecladoKey.addListener(listener);
Tutoriales Adobe